Tres Rios, Mexico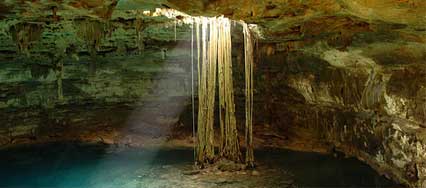 Cenotes
Tres Rios is an adventure and ecological park located on the Riviera Maya, between Playa del Carmen and Cancun. It is 35 minutes to the south of Cancun International Airport. The park is opened daily from 9am to 5pm although special arrangements can be made for groups who would want to camp out overnight. A huge variety of flora and fauna abound in this place of unspoiled nature and unparalleled beauty.
The beach area of Tres Rios is extensive and pristine. Take a dip in clear blue waters, play a game of beach volleyball, go horseback riding on the shore, paddle around in a kayak or simply lounge on a comfortable hammock and enjoy the soothing ocean breeze.
Tres Rios is the only area in the Riviera Maya where cenotes are at ground level and are in the form of fresh water wells. Eight cenotes have been discovered in the area and some of them are open to the public. A guided tour to these cenotes and nerby areas is available should you wish to explore them.
Tres Rios is the perfect place for those who wish to give snorkeling and scuba-diving a try because the waters here are safe but fun. Coral reefs and marine life are abundant in the area and truly enigmatic and mesmerizing. Short diving courses given by certified diving instructors are available in the area and will allow you to take part of these activities.
The jungle area of Tres Rios is also worth a visit. Hike or bike through and around it on your own or with the help of the areas expert guides. A good pair of walking shoes or sandals and light clothing will come in if you plan to go here.
Explore, take a tour and be part of the this natural environment! Tres Rios is definitely the perfect place to enjoy all the wonderful things that nature has to offer.