Tulum, Mexico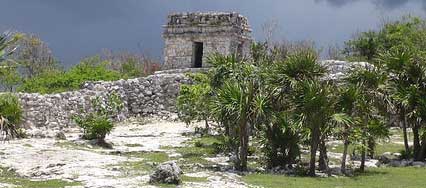 Mayan ruins in Tulum
Tulum, where some of the most remarkable Mayan ruins can be found, is one of Quintana Roo's most famous archaeological sites. It is located about an hour away to the south of Playa del Carmen and can be reached by federal highway 180. A mile-long road surrounded by a number of restaurants, a commercial area for tourists, a huge parking lot and a small bus station, lead the way from the highway to the famous ruins. Once you reach the entrance of the site, you can either walk or take a tram to the archaeological zone which is just about a kilometer away.
The archaelogical zone in Tulum is one of the most amazing sights that you will ever lay your eyes on. The ruins are exquisitely poised on top of 15-meter high cliffs rising above the Caribbean Sea. This jaw-dropping, sea-side setting combines the mystique of the ancient civilization that used to dwell in the place together with the majestic beauty of the sea.
Apart from its picturesque setting, there are also about sixty preserved buidings in the ruins in Tulum. The more striking ones are the Temple of the Frescoes and El Castillo. As its name implies, the Temple of the Frescoes is bedecked by Mayan-inspired frescoes whose original colors are still surprisingly well-preserved. Carvings abound inside the temple while statues can be found outside of it. El Castillo, on the other hand, is perched atop Tulum's highest cliff and thus, used to function as a lighthouse and watchtower.
It is quite easy to get to the Tulum archaeological site. From Playa del Carmen, you can ride a bus at the 5th Avenue bus station that goes directly to Tulum. Lately there have also been a lot of organized tour packages available that can make the trip more convenient for tourists and locals alike.