Valladolid, Mexico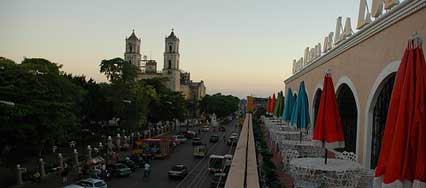 Valladolid, state of Yucatan
Valladolid, a small city in the state of Yucatan, is located halfway between Merida and Cancun. Founded in 1543 by the Spanish conqueror Francisco de Montejo, it is also called the "Heroic City" because of the many epic events that comprise its rich and colorful history.
The major tourist attractions and landmarks in Valladolid are testaments to the city's past. The preserved colonial buildings set around the vicinity of the Parque Francisco Canton Rosado, the main or central plaza. The ex-Franciscan Convent of Saint Bernandino of Siena, which was founded in 1552, is a structure of impressive and grand proportions, distinguished by its unique Franciscan style; the Cathedral of San Gervasio which was built in the eighteenth century; the Government Palace and the San Roque Museum.
The cenotes, or sinkholes, in this area are also must-sees. The Cenote Zaci, which is located in a public park near the central plaza, is an amazing site partly covered with stalactites and stalagmites. Swimming is allowed here although not really recommended. Two other notable cenotes in the area, Cenote X'keken and Cenote Samula, can be found in the town of Dzitnup. Cenote X'keken is an underground sinkhole decorated with stalactites and stalagmites. Light coming in from an opening in its ceiling illuminates the clear waters which is quite ideal for swimming. Cenote Samula is another underground sinkhole with a hole in its roof. It is best to acquire the services of a local guide in this cenote in order to appreciate its peculiarity and uniqueness.
Travel time from Playa del Carmen to Valladolid is about 2 ½ hours by car. There is a bus station near the central plaza that services daily routes to and from Valladolid and other towns or destinations. Renting a car can also be an option and would be a good choice for a day trip.