Xaman Ha, Mexico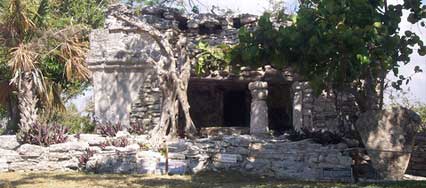 Ruins of Xaman Ha
The Xaman Ha Aviary is nestled on a magnificent Caribbean beach in the Playacar Resort, right at the heart of the Riviera Maya's Playa del Carmen. It spans 1.8 hectares of tropical forest and lush jungle vegetation. The aviary is an outstanding natural habitat of around 60 of the most beautiful and rare species of tropical birds native to the region's jungles. In the Xaman Ha Aviary you will find aquatic birds such as ducks, linseed birds such as flamingos, flight cage species and a whole lot more. You will also find paths and trails that would lead you to their preferred nesting areas. An estimated 200 birds populate the Xaman Ha Aviary and live in complete harmony with one another while pleasantly coexisting with other inhabitants of the area. This open-air, cageless sanctuary allows the birds to eat, live, fly and reproduce as if they were in their natural environment.
In addition to providing shelter and protection to the birds, Xaman Ha is steadily becoming a popular tourist destination. In addition to the stunning array of birds, there are other natural wonders that can be found in Xaman Ha, such as extraordinary rock formations, cenotes, various species of flora, as well as other types of wildlife can also be observed in the area.
Adults and children alike will definitely enjoy the one-of-a-kind experience offered at Xaman Ha. The aviary is open everyday from 9 in the morning to 5 in the afternoon, but the best time to observe the birds is from 9-11 am and from 4-5 pm when they are most active. The private foundation that runs the place charges a minimal entrance fee to its visitors.