Xcaret, Mexico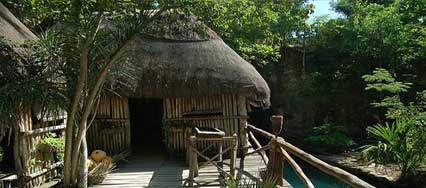 Xcaret Ecopark
The Xcaret Ecopark is one of the most beautiful parks in the whole of Mexico. This Mayan inspired eco-archaeological theme park is located 55 kilometers south of Cancun city and just 10 minutes south of Playa del Carmen, near the natural well area of Puerto Aventuras. This is the place where ferries set off for the island of Cozumel. It played an economically important role and served as the main port of commerce and exchange for the ancient Mayan civilization. The word Xcaret is Mayan in origin and is said to mean "inlet.
Xcaret is often considered a paradise, particularly by nature lovers. One whole day is simply not enough to truly enjoy all the wonderful things to see and do in Xcaret. Make sure to visit the Underground and Mayan Village Rivers; the beach, inlets and wells; the Manatee Lagoon; the Coral Reef Aquarium; the marine turtles; the apiary of bees and the aviary of wild birds; the bat cave; the butterfly pavilion; the Jaguar & Puma Islands; the Mushroom Farm; the Orchid Conservatory; the various archaeological sites and ruins; and the Xcaret Cultural and Archaeological Museum.
There are also a variety of tours to choose from depending on what your leisurely pursuit is. Popular choices include snorkeling, scuba diving, ecological, tropical jungle and sea bottom tours. Children can enjoy pony rides or go horse-back riding or swim with the dolphins. Apart from these, there are also daily shows and theater presentations, such the Equestrian Show and Xcaret Spectacular Night Show. Make sure to plan your itinerary ahead of time to make the most out of your trip to this incredible place. Xcaret is a living example of how conservation and development can co-exist peacefully and work hand-in-hand.
Learn more about other park experiences in Playa del Carmen by clicking on the links below!