Xel Ha Park, Mexico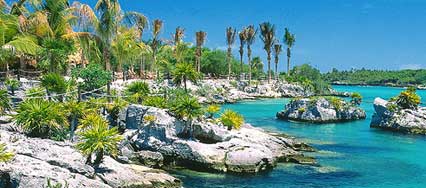 Xel-Ha Marine Park, Cancun, Mexico
The Xel-Ha Ecological Park is located about 30 miles south of Playa del Carmen and is considered to be the largest natural aquarium in the world. It is famous for its numerous varieties of brightly-colored tropical fish and its spectacular limestone formations. The Mayan term "Xel-Ha means "water entrance or "where the waters are born. Legend states that this beautiful place was created by the Mayan gods as a gift to mortals, designating the iguana and lora fish as its guardians. Prior to the arrival of the Spaniards in Mexico, the area was used by the ancient Mayan civilization as a commercial port for the trade.
Xel-Ha Eco-park's main attractions are without a doubt its aquatic treasures. Aside from the abundant marine life, you can also explore Xel-Ha's creeks, lagoons and caves fed by subterranean rivers, and have a one of a kind adventure by swimming with dolphins. No visitor to Xel Há should go without spending a few hours snorkeling or scuba-diving. The enjoyable attractions of the park include Hammock Island, Mangrove Chaac, Grotto Ixchel and El Dorado, the tree nursery, cenotes and the turtle camp. The river float in Xel-Ha is also something to rave about. Other notable features include incomparable beaches, the Spa Esalem and several restaurants serving buffet and a la carte meals.
Xel-Ha Eco-park is open daily from 8:30 AM to 5:30 PM. There are two types of entrance fees: all inclusive and general admission. The general admission fee covers access to all areas of the park, the train to the river, float-tubes, life vest and parking. To get to Xel-Ha you can either join an organized tour, rent a car, take a taxi, or ride a collective.