The Yucatan Peninsula, Mexico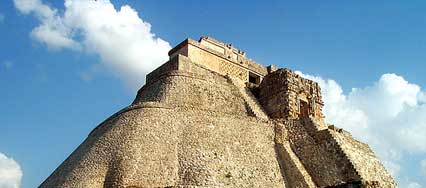 Uxmal Mayan Ruins, Yucatan, Mexico
The Yucatan Peninsula can be found between the Caribbean Sea and the Gulf of Mexico and consists of Mexican states of Yucatan, Campeche and Quintana Roo. It is famous for being the heartland of the ancient Mayan civilization.
People from all over the world come to the Yucatan Peninsula for its beaches, colonial cities, ecological reserves and archaeological sites. If sun and sand put a smile on your face, make sure to visit the popular beach destinations such as Cancun and the Riviera Maya. If you want to experience the rich historical culture of the place, take a trip down memory lane by visiting the beautiful colonial cities of Merida, Valladolid and Campeche. Nature-lovers should head to the renowned ecological reserves, such as the Rio Celestun Park and the Sian Ka'an Biosphere Reserve.
Finally, if you are particularly interested in poking around Mayan archaeological sites, the Yucatan Peninsula is definitely the place for you. Here you can find the Sacred Cenotes (sinkholes), as well as several famous Mayan archaeological sites: Chichen Itza, Uxmal, Tulum, Coba, Dzibanch, etc.
With so many different activities to do in the Yucatan Peninsula, it is really no wonder that it is fast becoming one of the world's most popular tourist destinations.