Art Galleries in Puerto Vallarta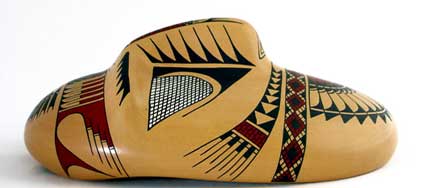 Roberto Banuelos mask - Marta Ortiz pottery
True to its reputation of being the country's art mecca, it is but natural that several of Mexico's finest art galleries are found in Puerto Vallarta. Works of art are on display in more than thirty art galleries, most of which are located in the downtown area and in Marina Vallarta.
They say that you have never truly been to Puerto Vallarta until you visit some of its art galleries. A favorite of many local and international art collectors is the Galeria Corsica, which features the best manifestations of Mexican art.
The Mata Ortiz Art Gallery showcases and retails the pottery of Mata Ortiz potters, the finest type of pottery in all of Mexico, if not the world. One other such gallery, the Galeria de Ollas, also features Mata Ortiz pottery carefully selected by the curator, who is an ardent collector. Not to be missed is the Galeria Arte Latinoamerica, which features contemporary art, sculptures and graphics. Works include those of Marta Gilbert, Raymundo Andrade, Yolanda Marroquin, and Eduardo Mejorada.

Message on a bottle - Meg Munro

La caida de IcaroII - Raimundo Andrade
Galeria Pacifico puts the spotlight on the works of some of Puerto Vallarta's most illustrious artists including renowned master sculptor Ramiz Barquet. Another must-see is the Galeria Dante. Featuring the work of more than fifty artists, it's the largest gallery and sculpture garden in Puerto Vallarta.
Those who are interested in contemporary art and photography should check out the Galeria Omar Alonso. Devoted to photography, engraving and sculpture, this Puerto Vallarta art gallery has attracted a certain following among collectors and artists worldwide.
Watercolor paintings of artist Meg Munro are on display in the Meg Munro Studio. Private viewing appointments with the artist herself may be scheduled.
Finally, the Galeria EM features custom-made, stained glass works of art of Mariano Perez and Estela Herrera. A variety of their works are also on display in hotels and dining establishments throughout Puerto Vallarta.
One of the world's best art scenes is indeed in Puerto Vallarta. See it for yourself!