Beaches in Puerto Vallarta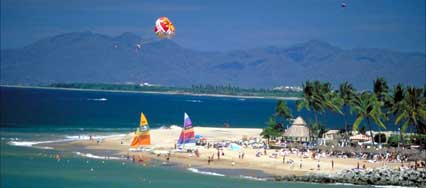 Puerto Vallarta beach
Puerto Vallarta is blessed with over 25 miles of golden shoreline and more than forty different beaches. From the isolated, hidden and secluded to the developed, urbanized and crowded, a broad variety of beaches await you.
The city beaches are usually bustling with crowds of people and endless activities. They are filled with an assortment of restaurants, hotels, sunbathing spots, and al fresco café's. The beaches to the north are much less crowded compared to the city beaches and are recommended for surfing activities. Meanwhile, the beaches to the south are also not overly crowded and are good for swimming and snorkeling.
Although every beach in Puerto Vallarta has something unique and distinct about it, some beaches tend to be more popular than others. The busiest and most popular amongst Puerto Vallarta's beaches is Playa de Los Muertos. Located near the downtown area, it offers its guests several different cafes and restaurants lining its shores, as well as a variety of watersports and activities.

Quimixto Beach - Puerto Vallarta

El Anclote beach - Puerto Vallarta
Mismaloya beach is another well-known beach, particularly because it was the location site of the movie The Night of the Iguana, an adaptation of the Tennessee Williams play. Snorkeling is very popular along its southern edge, although almost all kinds of watersports and activities are available here.
El Anciote Beach is a good place to anchor yachts and small boats. It is also an excellent place for surfing because of its constant waves.
Islas Marietas is located just a bit off the shore and is a preferred destination for snorkeling and diving. The waters surrounding the islands are abundant in marine life, such as giant manta rays, humpback whales and sea turtles.
Quimixto Beach is a favorite diving spot and is only accessible by boat. It features an authentic Mexican villa, which was made for John Houston, the director of the film The Night of the Iguana. The beach is also home to impressive waterfalls surrounded by lush vegetation.
Lastly, Playa Los Arcos is probably the best beach for scuba-diving and snorkeling. It offers its visitors a unique underwater national marine park featuring an amazing world of underwater caves, rock formations and marine life.
Whether you want a relaxing time on the beach or a trip packed with activities, you're sure to find the perfect spot in Puerto Vallarta!