Downtown Puerto Vallarta (El Centro)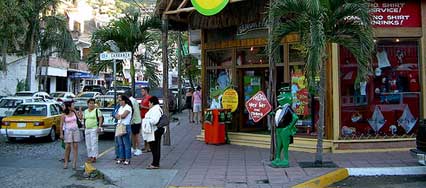 Downtown in Puerto Vallarta
Downtown Puerto Vallarta, or El Centro, is in the Old Vallarta section of the town and, with cobblestone streets and typical houses, is undeniably picturesque.
In downtown Puerto Vallarta, you can visit the main square, known as the Plaza Principal. As you walk around, you will see the Municipal Center, or the Palacio Municipal. The area is also composed primarily of shops and banks. There is a gazebo in the center with benches all around where travelers can sit back and relax. A Kiosko can be found in the center of the plaza. During the weekends and holidays, bands, Mariachi musicians and other entertainers publicly perform in the plaza. Across the Plaza Principal is the outdoor theater called Los Arcos.
The Malecón, Puerto Vallarta's famous boardwalk, is a great place to take stroll and take in the various sculptures lining the walkway.
A block away from Puerto Vallarta's main square, you will see the Iglesia de Nuestra Señora de Guadalupe, the famous cathedral with its crown-topped bell tower. The entrance of the cathedral is decorated by a spectacular crown of angels.
You will also find the Mercado Municipal, Puerto Vallarta's downtown flea market. Various native handicrafts and other souvenir items can be bought in the market at bargain prices.
At the southern part of downtown Puerto Vallarta, you will find the Cuale River. A small island divides the river. Around the area, you will find a statue of John Huston and the Cuale Museum. Shops and restaurants also line the walkway.
The hill, known as El Cerro, is a wonderful place from which to view El Centro as well as home to the swanky Gringo Gulch district.
Be sure to fit a tour of Downtown Puerto Vallarta into your trip. Here you will find history mixed with entertainment around every corner!