Excursions from Puerto Vallarta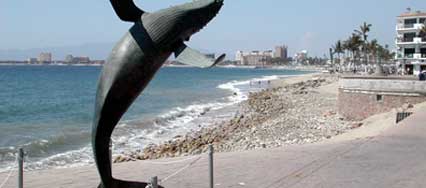 Whale sculpture on the Malecón
When traveling to Puerto Vallarta, you do not have to be limited to the beaches. To enjoy your Mexico trip to the fullest, you can go to various excursions to several different islands near Puerto Vallarta.
Go shopping around Guadalajara, Mexico for various authentic Mexican items such as ceramics. Enjoy Mariachi music while exploring the Cruz de Plazas and visiting their famous cathedral. Also, visit Lake Chapala, the biggest freshwater lake in the country. Enjoy the peace and quiet of Yelapa. See San Sebastian's renowned architectural masterpieces, such as the underground tunnel system. Don't hesitate to spend the night at the magnificent hacienda. Visit the waterfalls in Yelapa or embark on the pilgrimage to the Virgin Rosario of Talpa in Talpa de Allende.
You can also take excursions northward, and visit the small fishing towns of Sayulita and Bucerias. To the south, explore Quimixto and Las Animas.
Land tours can be arranged to locations such as San Blas, Terra Noble and Guadalajara, by a number of tour services. Jungle tours and jeep safaris are also available in Puerto Vallarta.
Boats in Puerto Vallarta leave for daily excursions to a number of isolated locations, such as Quimixto, Las Animas and Yelapa in the south, or to Piedra Blanca in the north. Some boat excursions already include free meals and snorkeling.
Several plane companies also offer air excursions, allowing you to appreciate Puerto Vallarta from above. Places such as Guadalajara and Lake Chapala, Talpa de Allende, Mascota, Tequila, Cabo San Lucas and San Sebastian can all be reached via chartered flights.
Taking a Puerto Vallarta excursions is the perfect way to enjoy this area of Mexico. See the natural beauty and experience the rich history of Mexico as you have fun!
For more information on popular Puerto Vallarta excursions, click on the links below!, Mexico