Festival of the Arts (Festival de los Artes)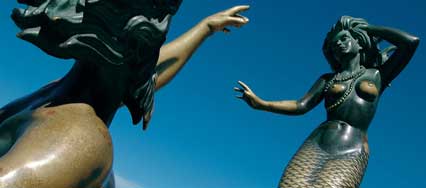 The Malecón sculpture
With paintings, sculptures, ceramics and much more, Puerto Vallarta is very nearly a mecca of art in Mexico. With over thirty art galleries and museums, it is quite appropriately considered a major international art center.
A lively and dynamic performing arts scene is also present in this city. Various events and performances, which are held almost everyday, are a testament to this. Musician, dancers, actors and performers are highly-acclaimed and deeply respected.
The Department of Culture, the Puerto Vallarta Convention & Visitors' Bureau, The University of Guadalajara, Buenaventura Hotels and Sheraton Buganvilias Resort are tasked with the responsibility of leading, guiding, promoting and supporting this exceptional art community along with the help of art dealers, gallery owners, visitors and artists from all over the world.
The city pays tribute to its magnificent arts scene through the celebration of The Festival of the Arts of Puerto Vallarta, also known as Festival de las Artes. The festival is held annually during the month of November. Each year the city organizes this event to promote all different kinds of art medium.
Up-and-coming and world-renowned local, national and international artists are invited to partake in the festival. During this time, select Puerto Vallarta art galleries hold exhibit openings to honor their artists and to introduce their latest works. The public is invited to meet with the artists, view their works, and share in the cultural and artistic wealth that the galleries present. Other special events, activities and concerts are held all throughout the city for the duration of the festival. All of these events are open to the public and free of charge.
The arts scene of Puerto Vallarta has experienced a major growth over the past recent years and it shows no signs of stopping. Those who appreciate cultural experiences and have a passion for the arts are invited and encouraged to experience the Festival of the Arts first-hand.