International Gourmet Festival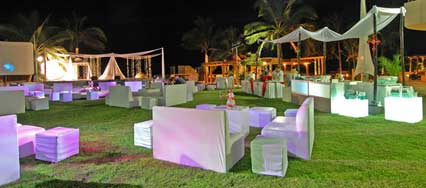 The International Gourmet Festival
The International Gourmet Festival, or Festival Gourmet Internacional, is an annual gourmet and culinary celebration held every November in Puerto Vallarta. World-renowned culinary experts and chefs, both locally and internationally, are invited to participate in the event to showcase and share their talents, skills and experiences. During this time, Puerto Vallarta's reputation of being a first-class resort destination becomes overshadowed by its reputation of being a first-class dining destination.
The brainchild of celebrated chefs Thierry Blouet, Heinz Reize and Sivan Muller, the International Gourmet Festival was first held back in November of 1995 in an effort to promote the vibrant culinary scene of Puerto Vallarta to the world. Now, both local and international cuisines are showcased during the festival.
Initially, only six hotels and six independent restaurants - each represented by their own culinary professional - participated in the event. As the years went by and as the Puerto Vallarta International Gourmet Festival grew in popularity, more and more chefs became interested in joining and participating in the event. At present, more than twenty of the world's most prominant and acclaimed chefs are given the rare privilege of taking part in this annual gastronomic celebration.
To complete the celebration of the International Gourmet Festival, a wide range of other events are planned, such as tequila and wine tasting and cheese-sampling. Other much-anticipated events include the Sunday Festival Gourmet Brunch and the Spirit of Mexico, which is the traditional gala dinner marking the end of the festival. Travelers who come to Puerto Vallarta in November will no doubt have a once-in-a-lifetime experience. If you want a feast, come join Puerto Vallarta's International Gourmet Festival!