Cultural Festival of May (Festival Cultural de Mayo)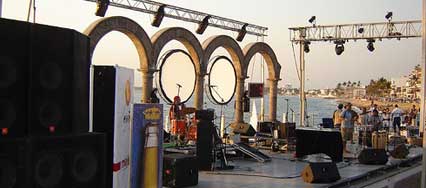 Cultural Festival of May
May is a month bustling with fun-filled activities and events in the city of Puerto Vallarta. The Labor Day celebration on the 1st of May signals the start of a month of endless festivities and merriment. This is immediately followed by the festivities of the 5th of May, or Cinco de Mayo, which commemorates the country's triumph in 1862 over the French in Puebla. Before the first wave of May festivities are even over and done with, the annual Cultural Festival of May comes right up the alley to further extend and prolong the city's festive atmosphere.
Puerto Vallarta's Festival Cultural de Mayo, or Cultural Festival of May, is a yearly event celebrated during the last two weeks of May. During this time, the streets of the city are filled with many different happenings and activities. All types of important local, national and international artists - musicians, actors, painters, sculptors,etc. - gather together in one place to perform for the public and showcase their talents and skills.
Other highlights include art exhibits, nightly concerts in the main plaza, singing and dancing performances, street parades, Mariachi bands, and sports competitions. Numerous food and beverage booths, shopping stalls and game booths are also set up throughout Puerto Vallarta. Bullfights, cockfights, and performances of local talents also abound.
Every municipality is expected to take part in the celebration by hosting at least one scheduled event. Nevertheless, most of the activities are still planned and held at the heart of the city. Breathtaking fireworks displays in the main plaza signal the end of this much-anticipated festival with a literal bang.
The Cultural Festival of May is now considered as one of the best festivals in the country and attracts a growing number of tourists and visitors every year. If you are fortunate enough to be in Puerto Vallarta during this time, you will definitely have a wonderful and memorable experience.