Golf in Puerto Vallarta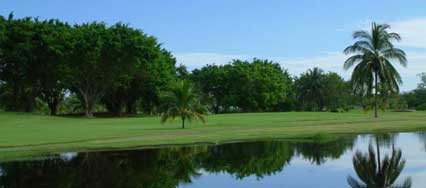 The Marina Vallarta Golf Club
Puerto Vallarta is rapidly becoming one of the world's top golfing destinations. A fine selection of golf courses, set against the unparalleled background of lush tropical forest and the magnificent Pacific Ocean, attracts numerous golf fanatics from around the world.
Top-class amenities and services await every avid golfer in search of a different kind of golfing experience. These impeccable Puerto Vallarta golf courses include: the Marina Vallarta Golf Club, the Los Flamingos Golf Club, the Four Seasons Golf Club, the Mayan Place Golf Club, El Tigre Golf Club and the Vista Vallarta Golf Club.
The Marina Vallarta Golf Club is located at Paseo de la Marina and is part of the $400 million Marina Vallarta mega-resort. It has an 18-hole, par-71 championship golf course designed by Joe Finger. The golf course also features lush tropical vegetation and natural lakes and lagoons. It is open to the public, though preference is given to guests staying at the partner hotels.
The Flamingos Golf Club in Nuevo Vallarta has an older, traditional-style golf course. The 18-hole, par-72 golf course was designed by Percy Clifford. Some consider this as one of the area's easier courses.
The Four Seasons Golf Club is located in Punta Mita in Banderas Bay. The 19-hole, par-72 golf course of the club was designed by the famous Jack Nicklaus and is widely thought to be one of the most challenging golf courses around.
The Mayan Palace Country Club and the El Tigre Golf Club can also be found in Nuevo Vallarta. Both have challenging and picturesque golf courses that are frequented by golfers from different parts of the world. The Mayan Palace golf course is an 18-hole, par-71 course designed by Jim Lipe, while the El Tigre golf course is an 18-hole, par-72 course designed by Vov Hagge.
Lastly, the Vista Vallarta Golf Club in Circuito de Universidad boasts boasts two golf courses in one. The first golf course is an 18-hole, par-72 course designed by Jack Nicklaus, while the second is an 18-hole, par-72 course designed by Tom Weiskopf.
No matter what level you are, you're guaranteed to enjoy your Puerto Vallarta golf experience!