Gringo Gulch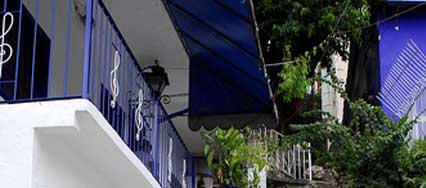 Gringo Gulch Area of Vallarta
Gringo Gulch is a popular area by the mountains of Puerto Vallarta. The place was named after the foreigners, often referred to as "gringos", who settled in the area during the 1950s and 1960s. Even today, many expatriates still live in the area.
Gringo Gulch is located in downtown Puerto Vallarta, by the Cuale River and the hill known as El Cerro. The entrance to Gringo Gulch can be found at the corner of Carranza and Zaragoza streets.
Gringo Gulch is composed of a number of villas and houses built in the colonial-style. Houses are typically white with tiled roofs and covered with bougainvillea. Gringo Gulch is a great place from which to view the magnificent city below as well as the surrounding mountains and sea.
The most famous of the villas in Gringo Gulch can be found at Calle Zaragoza 446, more popularly known as Casa Kimberley. During the filming of the movie Night of the Iguana, one of the film's actors, Richard Burton, was having an affair with Hollywood actress Elizabeth Taylor. Casa Kimberley was originally a gift Richard Burton bought for Elizabeth Taylor in the 1960's.
After the couple got married, they bought the house across the street. They renovated it and built a swimming pool in their home. They also built a passageway above the street connecting the two houses. This passageway is now called the "love bridge."
Casa Kimberley has since been converted into a bed-and-breakfast. A small museum with photographs of the famous couple can be seen in the villa. The bed-and-breakfast also offers a tour of the area every Sunday. The tour costs approximately $8 per person.
Rates for the bed-and-breakfast vary, depending on the season. It typically ranges from $75-$110 per person per day.
If you're going to Puerto Vallarta, don't forget to visit Gringo Gulch!