Excursion to Guadalajara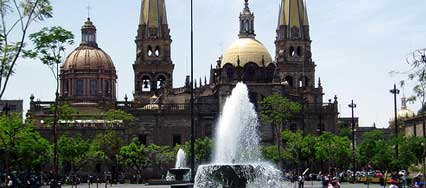 Guadalajara´s Cathedral
Known as the Pearl of the West, Guadalajara, Mexico is one of the most influential cities in the country. The city's location allows easy access to other nearby cities and resort destinations, making it a major tourism center in Mexico.
Guadalajara is a quick 30-minute plane ride away from Puerto Vallarta. On land, buses usually take about 5 hours to get there. Various companies in Puerto Vallarta offer tours and excursions to Guadalajara, which can last anywhere from a full day to a week. When visiting Guadalajara, two days are commonly recommended.
Guadalajara effectively incorporates traditional and modern cultures. The famous home of Mariachi music, Guadalajara also boasts classic Mexican architecture and various famous monuments.
Once in Guadalajara, visit the Historical Center in La Cruz de Plazas. The Cathedral is central to the site, which is surrounded by laurel trees and a fountain. In the cathedral, various works of art can be found, including a stunning painting by Murillo of the Immaculate Conception.
The Government Palace is an important historical site. The site was where slavery in Mexico was abolished and where the independence movement ended. A magnificent mural by Jose Clemente Orozco gives life to the Palace.
The Teatro Degollado is also a must-see. The theater is surrounded by huge Corinthian columns, and is home to a statue of Father Hidalgo.
Guadalajara is one of the best places in Mexico for shopping. Guadalajara's shopping centers are filled with traditional Mexican arts and crafts, clothing and furniture. San Pedro Tlaquepaque is famous for its affordable antiques and ceramics. Tonala, on the other hand, is world-renowned for their pottery and paper mache products sold in street markets.
Some Guadalajara excursions also include a tour of nearby Tequila and their famous agave plantations and distilleries. Most excursions already include tour guides, air and/or ground transportation and meals.