History of Puerto Vallarta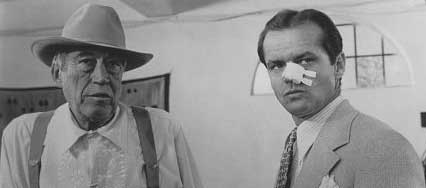 Director John Huston with Jack Nicholson
Puerto Vallarta's history began when it was founded in 1851. Back then, the port was used for trading salt and minerals for the mines in San Sebastian and Cuale. It was founded by Don Guadalupe Sanchez, who initially named it Las Peñas de Santa Maria de Guadalupe. The name was eventually modified to Puerto de Las Peñas, or Port of the Rocks. The name was again changed in 1918, the year the town was declared a municipality under the name of Puerto Vallarta- named for the governor of the state Ignacio Luis Vallarta.
Puerto Vallarta's popularity rose in the 1950's, when the town's airport first opened. The flights brought in people from all over the world, including famous Hollywood director John Huston. Puerto Vallarta became known worldwide when, in 1963, John Huston filmed the movie version of The Night of the Iguana in the town. During the filming, one of the actors, Richard Burton, was having an affair with the already-married Elizabeth Taylor. This not only increased the publicity of the film, but also introduced the world to the natural beauty of Puerto Vallarta. To commemorate John Huston's contribution to the popularity of the Puerto Vallarta, a statue of him was built on La Isla Rio Cuale. A plaque was also created to commemorate the 25th anniversary of the film.
Since then, more and more travelers have visited and continue to visit Puerto Vallarta. In 1968, Puerto Vallarta became a city in Mexico. A highway was built to connect Compostela to Barra de Navidad. In 1970, Puerto Vallarta's international airport opened up, making way for international and commercial flights. The city's population also grew, increasing to more than 100,000. Eventually, Puerto Vallarta was commercially developed with the construction of more hotels, resorts and restaurants in the area.
Today, Puerto Vallarta is one of the world's most visited beach destinations. In fact, an estimated 2.5 million travelers - both Mexican and international - frequent the shores of Puerto Vallarta yearly.