Excursion to Lake Chapala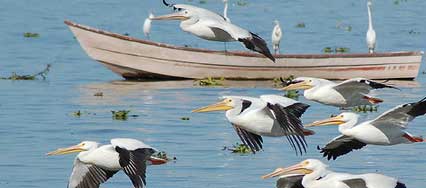 Lake Chapala at Petelan Michoacan
Lake Chapala, the largest freshwater lake in Mexico, can be found in the Mexican state of Jalisco. The waters of Lake Chapala drain into the vast Pacific Ocean. A trip to Guadalajara is not complete without dropping by Lake Chapala. The lake is a popular attraction for nature-lovers.
The lake is a favorite stop of migrating birds, including the famous White Pelican. Unique plants and marine life can also be found on the lake. Occasionally, the lake can be filled with seaweeds and water hyacinths; expert boaters can usually create a path across the lake to take you to the islands.
Two islands can be seen on the lake, namely Mezcala Island and Scorpion Island. Mezcala Island, or Isla Presidio, is a national monument that boasts magnificent ruins. On the other hand, Scorpion Island, or Isla Alacranes, has several restaurants that serve scrumptious local dishes. Both places are ideal sites for bird watching. A typical itinerary would be to leave the pier to first explore Mezcala Island, then follow it up with a delicious lunch at Scorpion Island.
The areas near Lake Chapala provide a wide range of facilities for tourists. These include the church, several restaurants and numerous shops selling handicrafts.
Continuing development in the area has threatened the various forms of oceanlife in Lake Chapala. Water levels have dropped considerably and pollution has greatly increased over the last few years. It is also gradually becoming more populated, with a growing number of foreigners retiring in the area.
Although development is still progressing in the area, various groups have initiated several conservation programs, which aim to protect the environment of Lake Chapala. This is also a way of promoting the ecotourism in the area.
To get to Lake Chapala, you can choose to either take a bus tour or flight to nearby Guadalajara.