Malecón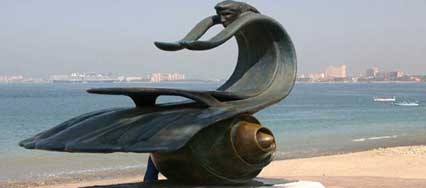 Sculpture in Malecón
The Malecón, the city's boardwalk, is one of the most popular areas in Puerto Vallarta. The Malecón is a mile-long walkway by the beach, covering about 16 blocks of shoreline. It can be found downtown, parallel to the main street Paseo Diaz Ordaz.
The Malecón is a popular spot for photographers and art connoisseurs alike. Along the promenade are numerous landmarks and sculptures. One of the most popular sculptures is that of a huge bronze seahorse. The original sculpture, a creation by Ramiz Barquet, fell into the water during a strong hurricane in 2002. The sculpture standing there at present is a replica made by Rafael Zamarippa. La Rotunda del Mar by Alejandro Colunga can also be seen. Other prominent landmarks include the sculpture of the tall ladder by Sergio Bustamonte and the Friendship Fountain by James Bottoms. Some artists can also be seen selling their paintings around the area. You can also find the stone arches of the Los Arcos Amphitheater in the area.

Arches by the Sea, Malecón

Whale sculpture in Malecón
Along the Malecón you will also find various shops and restaurants. These places boast a seaside view of the sunset over Banderas Bay, attracting numerous visitors during the afternoons. From the Malecón, you can also see Punta La Iglesia on the south and Punta Mita on the north. Hotel Rosita, Puerto Vallarta's first hotel, can also found at the northern end of Malecón. Near the hotel, fishermen set up an open market each morning.
If you're craving entertainment, the Malecón offers a great beachfront nightlife. The Malecón hosts music and dancing events, usually held on the weekends. A bridge passing over the Cuale River was built recently, which also lengthens the stretch of the Malecón. The bridge allows you to reach Puerto Vallarta's South Side, the area by Los Muertos Beach. Here you will see more restaurants, shops and bars.
Whether you want to relax, be entertained, or have a rich art experience, the Malecón is the place to be.