Marina Vallarta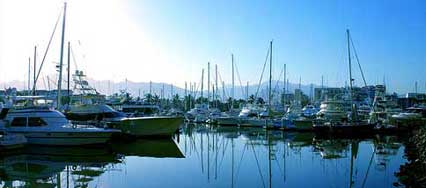 Marina Vallarta
Marina Vallarta is a developed tourist destination in Puerto Vallarta, covering over 500 acres of land. It is located approximately 15 minutes from the Puerto Vallarta Airport. Available in Marina Vallarta are both residential and commercial establishments, including Mexico's biggest marina.
If you plan to visit Marina Vallarta, you have various choices when it comes time to figure out where to stay. There are condominiums, hotels and villas all over the area. Gran Turismo hotels can be found by the beach, which include fine dining restaurants. You can also relax in style in any of Marina Vallarta's many spas.
Marina Vallarta's boardwalk allows tourists to walk around, bike, peruse shops and dine at restaurants.
The shoreline of Marina Vallarta extends for over a mile. Water activities are also popular in the area. Aside from watersports, golf and tennis are popular activities in the area. Maria Vallarta boasts a famous 18-hole golf course and several tennis facilities.
Marina Vallarta also has a lighthouse, at the top of which you can grab a drink at the El Faro bar. The Marina Lighthouse offers a stunning view of the entire Marina Vallarta. It also offers live musical entertainment at night.
Children are also sure to enjoy Marina Vallarta- especially its water park, complete with wave pools and large waterslides.
Marina Vallarta also offers a complete marina, allowing it to accommodate different sizes of yachts and sailboats. Over 500 slips are available in the marina, which can be rented both for short-term or long-term docking. If you're up for charters for fishing and sailing, you can also have them arranged here. Cruises also frequently drop by the marina.
If you want to enjoy a luxurious time in Puerto Vallarta, don't forget to go to Marina Vallarta. Whatever you want to do, you're sure to find it here.