Museums in Puerto Vallarta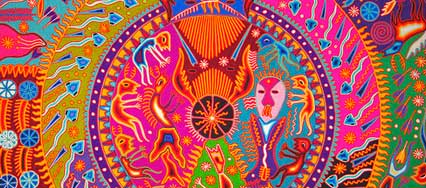 The work of Jose Benitez Sanchez, widely considered the master of the medium of yarn paintings of the Huichol Indians
Possibly the most notoriously popular museum in town is Casa Kimberley, or the Burton-Taylor Museum. Located in the downtown area of Puerto Vallarta, was originally the house of Richard Burton and Elizabeth Taylor. While shooting the movie The Night of the Iguana, Burton embarked on a very public affair with Taylor and bought this house on top of the hill for them. Today, it has been transformed into a bed-and-breakfast and museum filled with the couple's memorabilia.
The Manuel Lepe Museum is renowned worldwide for its vast collection of celebrated artist Manuel Lepe works. It features original local artwork that includes ceramics, paper mache, jewelry, posters and lithographs.

Kimberley House in Gringogulch

Puerto Vallarta Navy Museum
A definite must see in Puerto Vallarta is the Huichol Museum. The Huichol Indians are considered to be one of the oldest tribes in Mexico. At the Huichol Museum, you can view a huge collection of their beadwork, masks, jewelry and tapestries that are on permanent display. It also features some of the works of Jose Benitez, a contemporary master of traditional Huichol techniques.
The Museo Ernesto Munoz Acosta also features a variety of works of the Huichol Indians together with the artwork of brilliant modern artists such as Sergio Bustamente and Manuel Lepe. Aside from these, it also exhibits the works of up-and-coming artists of the region.
The newest museum in Puerto Vallarta is the brand new Naval History Museum in El Centro. It features a permanent collection of cartography, documents, images, navigation instruments, paintings, scale models as well as other objects that will help you to learn about the Mexican armada, both past and present. A special section of the museum is devoted solely to the city.
Plus, don't forget to round off your cultural visit to Puerto Vallarta by checking out its many art galleries!