Nightlife in Puerto Vallarta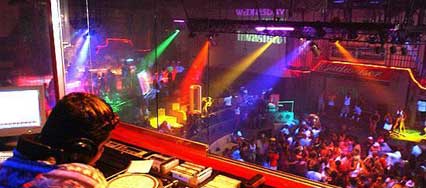 College Club, Puerto Vallarta
If an exciting nightlife scene is essential to your perfect vacation, then Puerto Vallarta is definitely the place to go to. The fun really starts sometime around 11pm, after you have had your fill of the delectable cuisine being offered by any of the fine restaurants around town. Sports bars, piano bars, discos, dance clubs and live music clubs abound and offer the city's residents and guests a great number of options from which to choose.
Normally, every visitor's first stop in Puerto Vallarta is still the popular Malecón. This beachfront boardwalk is the center of the action and the heart of city's nightlife. The vibrant and festive atmosphere of this area lures people, young and old alike, and entices them to take part in the fun and action.

Carlos O'Brian's

El Mariachiloco, Vallarta
The best bars, restaurants and clubs of the city can be found on the Malecón. Some of the most visited nightlife establishments in the Malecón area include Carlos O'Brian's, a restaurant that turns into a disco late at night; Zoo, a dancing club that plays the latest techno, house, reggae and dance tracks; Christine, an avant garde club known for its state-of-the-art light shows and up to date play list; De Santos, an excellent restaurant that later in the evening turns into a chic minimalist lounge; and Collage, a group of clubs sharing one huge dance floor and famous for its Foam Party Tuesdays.
The southern part of the city caters to those in search of venues for an alternative Puerto Vallarta nightlife. Los Balcones, Anthropology and Paco Paco are the popular gay and lesbian establishments here and have recently been joined by the NYPV Bar New York which has been gathering good reviews. Salsa and meringue enthusiasts will surely be comfortable in JB and Andale. While those who want a taste of live mariachi music will definitely have a blast at Mariachi Loco and Tequilas.
Finally, check out the spectacular stage shows of the many different hotels in the city. Folkloric dancing, colorful costumes, lively music combined with a scrumptious buffet demonstrates the Mexican way of partying and celebrating.