Puerto Vallarta Old Town (Viejo Vallarta)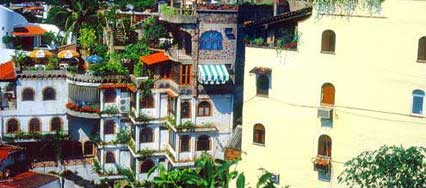 Old Town, Vallarta
If you want an authentic Mexican experience, don't forget to visit Viejo Vallarta: Puerto Vallarta's Old Town. The Old Town is one of the non-commercialized areas in Puerto Vallarta.
The streets of Puerto Vallarta's Old Town are composed of cobblestone and brick paths and trees are scattered around the area. Various inns, galleries and restaurants can be found throughout.
A popular area in the Old Town of Puerto Vallarta is "Restaurant Row". Located on Basilio Badillo Street, restaurants ranging from small canteens to fine dining restaurants to bars and clubs line the street. They serve all sorts of food, ranging from local Mexican food to international cuisine. After dinner, you can go bar hopping at the various clubs in the area and try out Jalisco's famous tequila.
For art enthusiasts, a visit to the Old Town is a must. The Old Town Art Walk, which incorporates over 15 art galleries, is held once a week, from October to April. The galleries have diverse art exhibits, ranging from classic Mexican paintings to more contemporary creations.
The famous Our Lady of Guadalupe Cathedral can also be found in the Puerto Vallarta Old Town. Each December, this area of Puerto Vallarta celebrates the Festival of Our Lady of Guadalupe. You will be able to eat the best food and watch lively entertainment for 12 straight days.
Many expatriates live in the area, namely foreigners who have been attracted to the town its true Mexican feel. These people are more than willing to lend a helping hand to other travelers visiting the area.
Most Puerto Vallarta tours revolve around the Malecón and do not involve Puerto Vallarta Old Town. You can opt to visit the Old Town without a guide, as the people here are generally helpful. Experience a genuine Mexican environment in Puerto Vallarta' Old Town!