Puerto Vallarta Romantic Zone (Zona Romántica)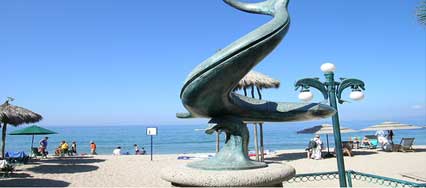 Los Muertos Beach in Downtown
The Puerto Vallarta Romantic Zone is perfect for couples who want to spend a romantic weekend together.
The Puerto Vallarta Romantic Zone can be found in downtown Puerto Vallarta. It is bordered by water on two sides: on the north by the Cuale River and on the west by Playa de Los Muertos, or Beach of the Dead. On Zona Romantica's south is Santa Barbara street, while on the east is Insurgentes street.
As with the other areas in downtown Puerto Vallarta, the Romantic Zone boasts cobblestone streets. Various hotels and resorts perfect for couples are located on the shorelines of the Romantic Zone.
One of the most popular attractions in Puerto Vallarta's Romantic Zone is Los Muertos Beach. According to the legend, a war broke out between the local natives and gold and silver smugglers. At the end of the war, the beach now known as Los Muertos was covered with dead bodies. Another theory behind the name was that the beach was formerly used by the indigenous people of Puerto Vallarta as a cemetery. Despite the stories, it remains one of the most famous beaches in Puerto Vallarta.
Day activities include sunbathing, relaxing under palapas, beach volleyball and parasailing, among others. At the Los Muertos Pier, you can rent small boats for fishing or take water taxi rides to southern villages. For late nights, you can go to various clubs and jazz bars in the area.
"Restaurant Row" on Basilio Badillo Street boasts wide range of dining areas, from the classic taco stands on the streets to high-end restaurants. The walkway at Olas Altas also attracts numerous visitors every day. Myriad shops and restaurants line the sidewalk.
Renowned art galleries can be found at the edge of the Romantic Zone of Puerto Vallarta, near its borders. These galleries display traditional Huichol art, which are typically animal sculptures made of yarn and decorated with beads.
For a truly relaxing time, come visit Puerto Vallarta's Romantic Zone!