Excursion to San Sebastian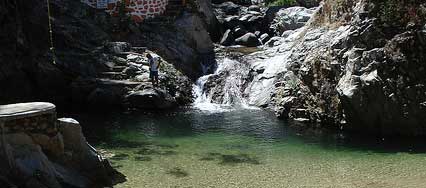 Sierra Madre Mountains
San Sebastian del Oeste, or simply San Sebastian, is a municipality in the state of Jalisco, Mexico. A town in the Sierra Madre mountains, San Sebastian was originally a leader in Mexico's mining industry. At present, tourism in the town is gradually progressing due in large part to the excursions offered from Puerto Vallarta.
It takes about 15 minutes to fly from Puerto Vallarta to San Sebastian. The view from above is breathtaking, with rivers and canyons dispersed throughout the mountains and a wonderful view of the La Bufa peak. The more common route, however, is via land, which requires you to ride approximately 2 hours uphill to reach the town.
Travelers frequent San Sebastian's town square. Tours around San Sebastian also typically include a visit to the local coffee plantation, the century-old hacienda and the local museum. For great architecture, the underground tunnels and the renowned San Sebastian church are places you shouldn't miss. Authentic Mexican dishes are served by the well-loved Lupita's Restaurant.
Try to visit San Sebastian, Mexico during one of the town's many religious festivals. Celebrate the feast of Saint Sebastian in January, and join the festivities of the Virgin of the Rosary in October.
For overnight stays, San Sebastian has very few hotels. El Pabellon and Los Arcos are both found on the plaza, and provide guests with basic amenities. Hacienda Jalisco, located by the airstrip outside of the plaza, is a more secluded but luxurious option. Reservations with Hacienda Jalisco include of full meals, and tours around San Sebastian may be arranged via the hacienda.
Air excursions from Puerto Vallarta to San Sebastian, Mexico, are offered by several tour companies, such as Aerotron and Aero Taxis de la Bahia. Meanwhile, several bus companies also offer San Sebastian excursions via land.