Shopping in Puerto Vallarta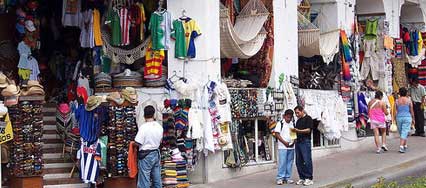 Downtown market (The mercado)
Puerto Vallarta is a shopper's paradise! Outdoor markets, shopping plazas and countless little stores are scattered all throughout the city. Specialty shops line almost every street in the downtown area. Amazing finds include native art, classic jewelry, and wonderful home accessories. Puerto Vallarta is renowned for its ceramics, pottery and magnificent hand-blown glass.
The main Puerto Vallarta shopping areas include central downtown, the Malecón, the famous mercado, and the beach. Designer clothing shops, American stores and Mexican boutiques and galleries fill the downtown Malecón strip.
The mercado, or municipal market, is right beside Rio Cuale and is open daily from 9 am to 7 pm. Clothes, papier-mâché parrots, jewelry, and T-shirts with Puerto Vallarta designs abound here.
Puerto Vallarta also boasts several malls and department stores. The Plaza Marina is located at the road entrance to the Marina complex. It has numerous shops, cafes and restaurants inside Marina Vallarta. It has a modern hospital, cozy restaurants and stores selling many different items.
There are other malls in the area. The Plaza Neptuno is an excellent shopping center. The Plaza Caracol, on the other hand, houses the Gigante Department Store, as well as a lot of small shops, boutiques and fast food outlets. The Plaza Genovesa is also located midtown, just to the south of Plaza Caracol. Aside from having a Comercial Mexican Department Store, it also has many small shops, banks and a number of restaurants.
Even along the beach, numerous vendors will approach you to sell their merchandise. If you find it too tedious to shop in town and would rather avoid the shopping crowd, this can be an easier alternative for buying souvenir items.
Don't forget to haggle, especially when buying in mercados or walking vendors. Sometimes you can get an item for almost half the original price! Have fun shopping!