Scuba-Diving & Snorkeling in Puerto Vallarta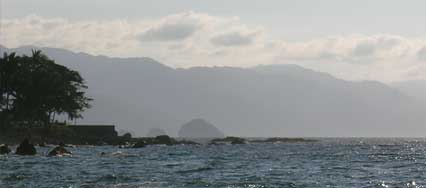 Some islands in the bay called Los Arcos.
Famous for fishing, snorkeling and scuba diving.
Scuba-diving and snorkeling are two of the most popular activities in Puerto Vallarta. The diverse marine life in the area and the clear waters of the Bay of Banderas make Puerto Vallarta a renowned scuba-diving and snorkeling destination.
The visibility in the waters of Puerto Vallarta varies, depending on the season. Summer is the best time to go diving, with the visibility ranging from about 25 to 40 meters. Visibility significantly decreases during the winter, resulting in an average of less than 10 meters for most areas.
If you're up for scuba-diving or snorkeling in Puerto Vallarta, you can explore several diverse dive sites: Los Arcos, Islas Marietas and El Morro, to name a few.
Diving in Los Arcos allows you to view spectacular rock formations and the famous underwater wall: La Quijada del Diablo. You can also view El Bajo, an underwater mountain. Octopus and lobsters are abundant in the area.
Islas Marietas became popular for its roles in the documentaries Jacques Cousteau created in the 1970's which showcased the area's rich underwater life. Reefs covered with fish and stingrays abound. You can also see underwater caves and cliffs in the area.
El Morro, which is located near Islas Marietas, is home to a series of rock formations, cliffs, caves and canyons. Big schools of fish generally pass by the area.
Other famous dive spots include Las Caletas, Isla Corbeteña and Punta Mita, among others. A number of diving centers offer diving courses that range from basic introductory classes to Open Water Certification. Diving tours typicall include diving gear, transportation and meals.
When going diving, be on the lookout for sea turtles, huge stingrays and the occasional whale or dolphin. You will also see colorful coral reefs and smaller species of fish and sponges. If you're a more advanced diver, you can also go night diving in Puerto Vallarta.
Scuba-diving and snorkeling in Puerto Vallarta is an adventure in itself. Don't miss it!