Excursion to Talpa de Allende, Mexico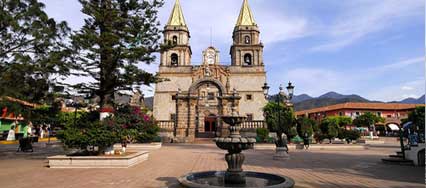 Talpa Church
Located more than 1,000 feet above sea level in the Sierra Madre mountains, the city of Talpa de Allende, Mexico is a revered site by a great number of religious devotees. The town has a population of over 10,000 individuals, but plays host to thousands of others during yearly pilgrimages.
Talpa de Allende is accessible from Puerto Vallarta via land and air. A number of buses leave for Talpa de Allende each day, a trip which takes approximately three hours. Air tours to Talpa de Allende are also available, such as those offered by Vallarta Adventures.
Pilgrimages are quite popular in Talpa, Mexico. This is because one of the most venerated sites in all of Mexico, the shrine of the Virgin Rosario of Talpa, can be found here. Three pilgrimages are conducted every year to the site. The Virgin Rosario of Talpa allegedly has healing powers, and a great number of religious Christians visit the statue annually to ask for miracles. The various churches in throughout Talpa are also popular tourist attractions.
Talpa de Allende also has a number of hotels and bed-and-breakfasts for guests who want to stay over to enjoy the city. One of the more popular tourist accommodations in Talpa de Allede is Hacienda Jacarandas. The hacienda has a pool and a hot tub and serves a delicious breakfast.
Restaurants of all kinds also abound in Talpa de Allende. Don't forget to try the popular guava roll while in Talpa- it's a local specialty. If you're looking for gifts or mementos, you can find shops selling various souvenir items all over the town.
Some tours also include a tour of the nearby farming village of Mascota. Prominent sites in Mascota include the local church dedicated to the Virgin of Sorrows, and the popular Mezcal distillery.