La Alberca Guide
This is the district's best-known town and was the first of Spain's country villages to be declared a National historical Monument.
A wander through the streets of La Alberca with its quaint, overhanging, half-timbered houses -their system of construction unchanged for hundreds of years- will have many visitors shaking their heads and thinking that they have somehow travelled back in time, unless of course some delivery van should rudely a waken them from their daydreams. A tour of the town inevitably leads into the Plaza Mayor, an irregular square ringed by columned arcades, without rival and still very much the centre of the townsfolk's social and festive life. No Spanish town or village would be complete without its parish church. The Church of the Assumption (Asunción), built in the 18th-century houses a 16th-century pulpit sculpted in granite, a splendid Gothic gildedcopper processional cross and a figure of Cristo del Sudor attributed to Juan de Juni. Yet it is not only in the architecture that time has stopped in La Alberca. Despite the inevitable throngs of onlookers, travellers fortunate enough to be here in August will have the chance of participating in fiestas whose origins are so remote as to be obscure. On 15th (Diagosto) and 16th (Tornafesta) August, the town gives itself over to the Feast of the Assumption, with festivities that mix pagan and religious traditions, and the local women resplendent in their jewel-laden Vistas dress.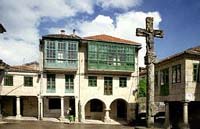 Maps of Salamanca
Click here to see a full map of the city.
More towns and cities
Know more towns and cities in the community of Salamanca.