Las Batuecas Guide
From La Alberca, the traveller should make a point of visiting the Batuecas Valley, one of the best areas to enjoy the region's fauna and flora to the fullest.
To get there, rejoin the road used to travel to La Alberca and head up to the Portillo de las Batuecas. On the other side of this low pass, one cannot but be impressed by the change in landscape and the subtle shifts in colour and tone that take place in response to the light at different times of day. Almost at the end of the sheer descent, a narrow road branches off to the right, only to peter out at the entrance to the valley on reaching St. Joseph's Shrine (Santuario de San José, also known as the Santuario de Santo Desierto), the Monastery of the Barefoot Carmelites, a cloistered order not admitting visitors. What the traveller can do instead is to stretch his/her legs by going for a quiet ramble along the banks of the river from which the valley takes its name. Walkers are obviously free to roam as far as they wish, but should nonetheless take care not to get lost along paths that are not always too well defined. Evidence of prehistoric inhabitants plainly capable of appreciating their surroundings is provided by the many rock paintings in the area, yet access is often difficult.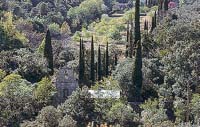 With a little luck, and better still, with the aid of a pair of binoculars, golden eagles (Aguila chrysaetos) and black vultures (Aegypius monachus) can be spotted as they glide, hover and swoop over crags that are home to ibex and roe deer. Unfortunately it is nearly impossible to catch sight of the elusive lynx, now a protected species.
Maps of Salamanca
Click here to see a full map of the city.
More towns and cities
Know more towns and cities in the community of Salamanca.