A Stroll Down and Around Calle Zamora
Salamanca is art in stone and bustling streets, business activity and the boisterousness of youth, dynamism, vitality and the good-natured disposition of its townfolk.
Leave the Plaza Mayor via Calle Zamora to get to the Plaza de los Bandos (33). Here a rich architectural feast awaits: the Garci-Grande Palace (16th century), recognisable by its pointed windows; the Solís palace, escutcheons emblasoned on the façade, and site of Philip II's betrothal to María of Portugal; and María la Brava's House (15th century), with its fan-like voussoir arch and stone-beaded alfiz (rectangular surround). Abutting onto the square are: the 12th century Romanesque church of San Juan de Barbalos (St. John), constructed by the Order of the Kinghts Hopitallers and home to the well-known Romanesque Christ of Thorns, with its four nails; and the 17th century Corpus Christi Convent with its beautiful plateresque frontpage. Nearby, the House of St. Teresa (34) evokes the Saint's presence in the city. Tradition has it that it was here that she wrote the famous verses, "Vivo sin vivir en mi".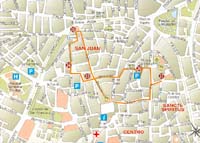 Click to Enlarge
At the end of the Calle Zamora stands St. Mark's Church (San Marcos) (35), a Romanesque building dating from the 12th century, converted into a royal chapel in the 14th century. Judging by its solid fortress-like looks (slit windows, circular shape) and location close to the gate in the city walls, it must have played a defensive role. The frescos inside are 14th century Gothic, while the bellcote is Baroque. On emerging make your way across town to the Torre del Aire (36), a 15th century Gothic tower, whose style though medieval has a definite Italianate feel. Just a block or so away is the Church of the Holy Spirit (Sancti Spiritus) (37), a Plateresque gem combining Gothic and Renaissance elements which, once inside, will reveal a single nave covered by ribbed vaulting and a high altar retable in the Baroque style. From here it is a short walk back to the Plaza Mayor.
Maps of Salamanca
Click here to see a full map of the city.
More itineraries
Know more itineraries in the community of Salamanca.