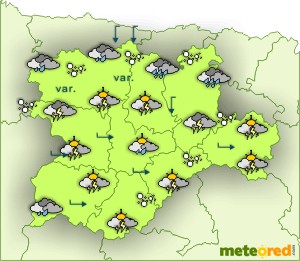 Weather in Salamanca today Monday, December 18, 2017
News about the weather
Most of Spain enjoys good warm weather throughout a long summer - from late April to late September. During this "high" season the temperature in Salamanca can reach 40 degrees or even higher, but it is more usually no higher than 35 degrees. The average daytime temperature is between 25 and 30 degrees. In July and August you won't want to be far from a pool, river or a cool drink.
Spring and Autumn are good times to visit Salamanca. The weather is generally reliably warm (about 20 degrees as a rough indication) and sunny. Salamanca enjoys a lot of sun and very little rain (except in the North - not on the plain, as the song wrongly says).
Winter - from November to early March can be very cold. However, neither city gets much freezing weather. A sunny day with 7 degrees would be a cold Winter day.
Here we have the average temperatures in each month in Salamanca capital:
January: 5ºC
February: 5ºC
March: 11ºC
April: 16ºC
May: 22ºC
June: 24ºC
July: 30ºC
August: 32ºC
September: 19ºC
October: 16ºC
November: 11ºC
December: 8ºC