Sevilla Guide
Located in the southwest of the Iberian Peninsula, in the heart of Andalusia, Seville is the fourth largest city in Spain and is situated just 6 metres above sea level on the beautiful banks of the Guadalquivir River. The city is without doubt, the artistic, cultural, financial, economic and social centre of southern Spain and being more than 2000 years old holds a long history of civilizations influential in its growth. Seville is scattered with incredible monuments and is an ideal hub for anyone wishing to experience Spanish culture. With its incredible year round warm temperatures, some 2900 hours of sunshine a year and its fantastic Mediterranean climate with one of the highest average annual temperatures in Europe, Seville is an ideal Spanish destination in many ways. It offers endless rows of tapas bars and a large array of top quality museums. Moreover, the city is aplenty with religious architecture and there are magnificent views from wherever you may be. Bursting with culture and excitement, take yourself to see some flamenco, or even a bullfight, and experience the much-loved Spanish city that everybody is talking about.
Museums
Museo de Bellas Artes
As one of Spain's most important art museums, the Museo de Bellas Artes was established in 1835 and opened to the public six years later. There is a large, impressive range of works by the likes of Murillo, Vales Leal, Zurbaran and El Greco as well as a cast number of ceramic, gold and silver productions.
Museo de la Necropolis Romana
As one of Spain's first archaeological museums, here lies a breathtaking collection of Roman artefacts dating as far back as the first century AD. Jorge Bonsor is the 18th century archaeologist who excavated the findings and preserved them in this very museum. This museum is situated 20km outside of Seville in neighbouring Carmona however is definitely worth a visit.
Bullfighting museum
Seville's bullfighting museum was created in 1989 and is found between the walls of the city's own Plaza del Toros or 'bullring'. The museum displays an exhibit of famous bullfighter's outfits, trophies, photos and many other important objects. The museum is open every day except for Sundays and bank holidays.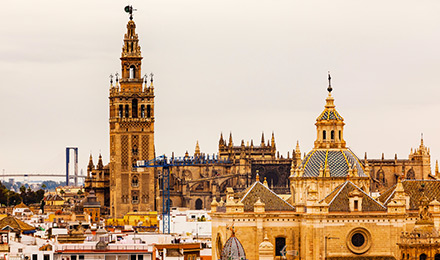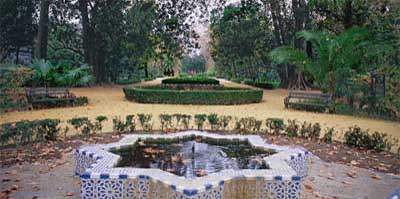 Barrio de la Santa Cruz
This is the most famous and touristy part of Seville containing many of the essential must-see tourist sights. This historical part of town contains stunning monuments, relaxing walks and a beautiful combination of Jewish and Moorish influences.
Cathedral
This stunning cathedral is the largest gothic cathedral in the world and the third largest in the world overall. Within this gothic cathedral is an extraordinary museum and both are well worth a visit. Outside a small fountain is conserved name the Patio de los Naranjos. The site of the cathedral is over an old Mosque which reflects the intriguing history held within its walls.
Giralda
This is the tower of the cathedral and now the city's landmark. At the time it was built it was the highest building in the world and from the top can be enjoyed stunning views over the whole city.
Alcazar
The Seville Alcazar dates as far back as the 13th century and has been added to at different periods in history. It combines Christian elements with an Arabian style and inside contains a collection of musical instruments from the Moorish period. In the summer months, concerts are even performed in the palace's great gardens.
Plaza de España
As one of Seville's most beautiful sights, Seville's Plaza attracts tourists from afar to the tiled paintings covering the building. Originally built for the "Ibero-American exposition 1929", it contains two highly individual towers at its both extremes and is located in the centre of Maria-Luisa Park.
María Luisa Park
This park is named after Infanta Maria Luisa who presented to the town her half of the gardens of her Palace of San Telmo. Within, there are several constructions, a museum and the works of architect Hannibal Gonzalez. This place is a beauty and should definitely not be left out.
Flamenco
Triana is a fantastic cultural hub in Seville and is where you will find streets such as Calle Betis lined with tapas bars. A must-do in Seville is to see a flamenco show. Flamenco originated right here in Andalusia and bars such as Lo Nuestro and El Rejoneo regularly do shows.
Bullfighting
Seville is home to one of the most famous bullrings in Spain. This is a very important cultural element of Spanish that arouses much controversy however if you are brave enough to experience on of these shows, most bullfights take place on a Sunday at the marvel of the Plaza del Toro and there is even a bullfighting museum which is an excellent educational resource and a way of discovering the evolution of bullfighting in Spain.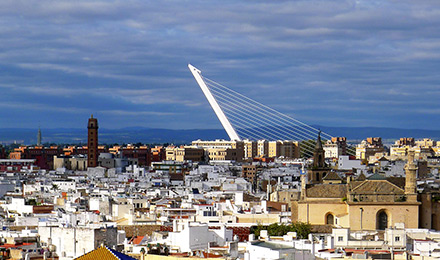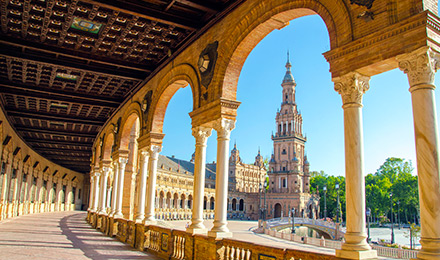 Getting to Seville
By plane
The San Pablo International Airport is only 4km from the city centre and was designed to receive 8 million travellers a year. There are regular flights to major EU, Spanish and international destinations and there are bus services running into the city at 30-minute intervals.
By Bus
El Prado and Plaza de Armas are the two bus stations in the city. Seville is connected to many places throughout Europe with Eurolines and the Tussam Bus Company operates throughout the city providing public transport within.
By train
The Santa Justa train station has received various awards and holds many connections between city and many places through Spain and Europe.
By Boat
The Guadalquivir River holds an incredible port supporting intense traffic from tourist cruises and making the city accessible through here.
Getting around the city
The city has a fantastic bus system with routes all across the city however Seville is such a stunning city that there are many wonderful opportunities to walk to places and see the sights along the way. It is an idea pedestrian city and biking is also very popular as they can be rented for a mere 18€ a day. Bus tickets cost 1€ each with a 10-journey ticket costing €4.35 however there are no stops in the city centre. Nevertheless, the services last from very early in the morning until late at night.
Images of the City
Enter here to see more photos of the city: monuments, buildings and sites.
Maps of Sevilla
Click here to see a full map of the city.
More towns and cities
Know more towns and cities in the community of Sevilla.