Carmona Guide
Located on a low hill overlooking a fertile plain, Carmona is a picturesque, small town with a magnificent 15th century tower built in imitation of Seville's Giralda. This is the first thing you see and sets an appropriate tone for the place. Not surprisingly, given its proximity, Carmona shares a similar history to Seville, and was an important Roman city which, under the Moors was often governed by a brother of the Sevillan ruler. Later Pedro the Cruel built a palace within the castle which he used as his royal residence in the country.
At the entrance to the town is the Puerto de Sevilla, a grand if ruinous fortified gateway which leads to the historic old part of the city. Within the wall, narrow streets meander past Mudejar churches and Renaissance mansions. Up further still is the Plaza San Fernando which is comparatively small but dominated by splendid Moorish style buildings. Behind here is a bustling fruit and vegetable market which, like all markets in Andalusia, appropriately reflects what is in season at any given time.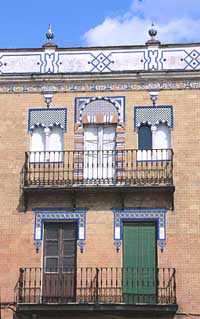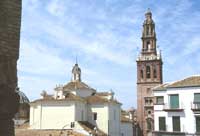 Close by to the east is Santa Maria, a stately Gothic church built over the former main mosque, whose elegant patio is retained. Like many of Carmona's churches, it is topped by an evocative Mudejar tower and part of the original minaret may still be spied. Dominating the ridge of the town are the massive ruins of Pedro's palace, destroyed by an earthquake in 1504 and now taken over by a gracious if expensive parador. To the left the town comes to an abrupt halt at the Roman Puerta de Córdoba from where the original Cordoba road drops down to a vast plain.
The Roman necropolis is particularly noteworthy. It lies on a low hill at the opposite end of Carmona amid cypress trees and contains more than nine hundred family tombs dating from the 2nd century BC to the 4th century AD. Enclosed in subterranean chambers hewn from the rock, the tombs are often frescoed and contain a series of riches in which many of the funeral urns remain intact. Some of the larger tombs have vestibules with stone benches for funeral banquets and several retain carved family emblems. Opposite from here is a partly excavated amphitheatre. Carmona is a fascinating town and well worth a visit, whether you are a history buff or not ….
Maps of Sevilla
Click here to see a full map of the city.
More towns and cities
Know more towns and cities in the community of Sevilla.