Sevilla's Festivals
Andalusia celebrates its festivals with passion and abandonment. Seville, as the region's capital, hosts some of the most important events. When the orange trees begin to blossom, Seville decks itself out for its famous Semana Santa (Easter Week) and Feria de Abril (April Fair).
The city's most famous celebration, Semana Santa was begun in the 14th century. In the 17th century it assumed the traits which it maintains today, coinciding with the golden age of Sevillian religious images. This is the period of the creation of Jesús del Gran Poder, La Macarena, and the Christ of Cachorro, pivotal images of the processions.
Semana Santa in Seville spans the 7 days of Easter, with the staging of daily processions, as well as the 40 days of Lent, necessary for the preparations. The celebration lasts from Palm Sunday to Easter Sunday and includes the participation of 57 brotherhoods.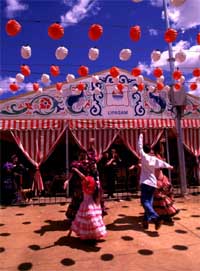 The other big celebration, the Feria de Abril (April Fair), was created in the mid-19th century as an agricultural and cattle fair. Slowly it turned into a fair for the celebration of the Andalusian countryside within the city. For a several months Sevillians work to assemble an artificial city of canvass booths, lights and small lanterns. Then, during the celebration, the city's men flock to the event dressed in short jackets, boots and chaps, and the women wearing colorful dresses with ruffles. It is worth mentionning the Romería (pilgrimage) del Rocío. The pilgrims come from all around and travel by cart and by horse to the sanctuary of the Virgen del Rocío in the village of Almonte, Huelva, to see the procession.
The procession is solemn, but the uniforms and dress of the different Brotherhoods are colorful. Many of the streets along the path are covered with white awnings, and the streets, with flowers and aromatic plants.
The biggest celebration of the Guadalquivir, the Seville river, is the Velá (night) of Santa Ana, held in the sailor's neighborhood of Triana. It takes place on the 24th, 25th and 26th of July, coinciding with the celebrations of Saint James and Santa Ana (the area's patron saint).