Sevilla Parks
Sevilla is a city lined with orange trees, and in springtime the smell of orange blossom fills the air. Thanks to its Arabic heritage, the gardens of Sevilla are oasis of tranquillity. Most picturesque of all are the Alcazar´s gardens, laid out in Arabic style, with rivulets, waterfalls, tile work and hints of jasmine and bougainvillea.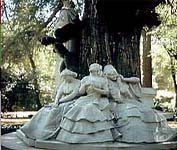 MARIA LUISA PARK:
Is one of the city's largest. With a surface area greater than 400,000 metres, it was originally built as a Romantic garden for the palace of San Telmo on the occasion of the 1929 Latin American Exhibitions by the Frenchman, Forestier.
MURILLO PARK:
are also interesting, bordering on the walls of the Alcázar and leading into the Santa Cruz neighbourhood. They are very Sevillian in style, full of arcades and foliage, ceramic work and abundant flowers.
We also recommend visiting the gardens of the Valle, adjoining a section of the historic city wall.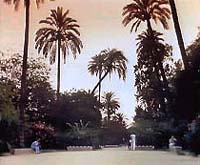 The Parque de las Delicias (garden of delights), (Itinerary VI. Buses C-3, C-4 and 5), and the Paseo del Marqués Alcalde de Contadero (Promenade of the Marqués Alcalde de Contadero) (Itinerary VI. Buses C-3, C-4, 5) adorn the banks of the Guadalquivir.
For Expo '92, the city planted gardens along the right bank of the river which leads into Torneo Street, creating the Park of the Alamillo, the garden of the Guadalquivir and the Garden of San Jerónimo. Expo '92. Buses: 2, C-1, C-2, C-3, C-4.
Although it is not exactly a garden, the inhabitants of Seville enjoy the Cemetery of San Fernando as if it were. lts Romantic design, adorned with bower trees, hedges, and an interesting group of mausoleums (belonging to, for example, famous bullfighters such as Joselito el Gallo) make it a quiet and peaceful area for relaxation. North area of the city. Bus: 10.