Tenerife Beaches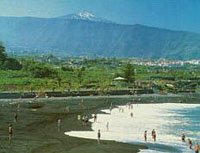 PLAYA JARDÍN:
Nearly one kilometre of the coast in Puerto de la Cruz has been recently regenerated, from the Castle of San Felipe to Punta Brava district. For this purpose, they have used 200.000 cubic metres of sand extracted form the surrounding sea beds.
The beach shielded by a half submerged breakwater, consits of a 17.000 m2 landscape area.
Location
:
Puerto de la Cruz
MARTIÁNEZ POND:
The public complex of Costa Martiánez, pride of Puerto de la Cruz, is one of the most admired examples of coastal transformation. A reputable technical team, headed by the well-known artist born in Lanzarote César Manrique, created this exceptional piece of work adapted to the traditional Canary architecture and complemendted it with original sculptures and some vegetable elements from the autochthonous flora.
Its artificial pond, consisting of 27.000 m3 of sea water, highlights the rest of the pools, four for adults and three for children use, all of them show an original layout and beauty.
Location
:
Puerto de la Cruz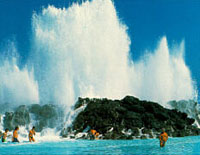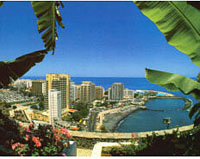 MARTIÁNEZ BEACH:
This beach is located between the cliff that bears this name and the public complex Costa de Martiánez. Certain sections of this beach with black sand lays open to the powerful action of the sea, and is an appropriate scenery to the practice of surf and sea wall, beside Martiánez pond.
Location
:
Puerto de la Cruz
TERESITAS BEACH:
This beach was enlarged and conditioned in 1973, with the addition of golden sand from the antique Spanish province of Sahara. Nowadays it is protected by a breakwater.
Some Canary palms and sea grapes have been planted in this wide beach, 1.5 Km. long.
It is located by the fishing precinct of San Andres, offering numerous fish and seafood restaurants, 7 kilometres North away form Santa Cruz.
Location
:
Santa Cruz de Tenerife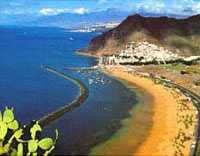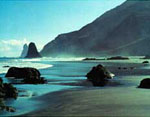 ROQUE BEACH:
Its sand is dark and more abundant during low tide periods; suitable for practising surf, may become dangerous due to frequent currents and sudden swells, despite the apparent good condition of the sea.
There are some open-air cafés and fish restaurants by the beach.
NUDIST BEACH:
The more important nudist beaches are:
- Playa de la Tejita (El Médano)
- Playa de los Patos (La Orotava)
- Playa de las Gaviotas (Sta. Cruz)