Tenerife's Carnivals
According to many people, the carnivals are the best in the World - after those of Rio de Janeiro. All the islanders gather together at these annual festivities making it a truely incredible month of partying and fun - not to be missed!
The main celebrations take place in Santa Cruz de Tenerife in the areas near the port where people dance to the sound of the best Salsa groups. Nearly all the inhabitants of Tenerife prepare incredible fancy dress outfits and then show them off during the whole of the festival.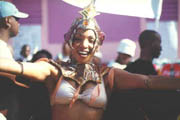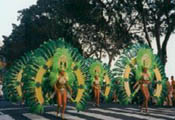 During the twenty seven days of the carnivals, many important festivities are held such as the election of the Queen, competitions of street bands, processions and above all the impressive cavalcade which blends "Caribean" and "European" into a garland of colour and spectacle.
Whoever visits Tenerife during the month of February should not miss the vibrant and bustling celebrations and if possible join the crowd in fancy dress.