Tenerife Photos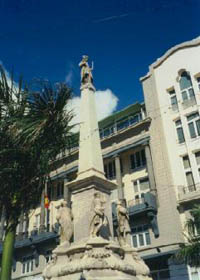 The Candelarian Memorian :

This monument gives a name to Plaza de la Candelaria (Candelaria Square). It is a marble monument, its real name is 'the Triumph of the Virgin of Candelaria' and it was erected in 1778. It was sculpted in Genoa (Italy) by Pasquale L. Bocciardo and it represents the legend of the finding of the Virgin's image by the Guanche shepherds.
Admiral Nelson's defeated British troops marched past this monument, after their surrender, on their way to reembark in their ships.
La Pila (The basin):

This fountain was the first public service monument of Santa Cruz and it was put in place in 1706. It was sculpted in Las Palmas. Later it was moved to several different places until it was put again in this square to which it gave a name at a certain time.
Behind la Pila begins Castillo, nowadays a narrow pedestrian street which was during two centuries Santa Cruz' High Road.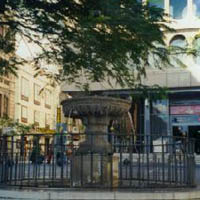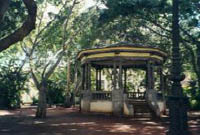 Plaza del Príncipe de Asturias:

A beautiful romantic square, commonly known as 'Plaza del Príncipe'. This was the first 'park', after the Alameda, of the small town in the XIX century. It was inaugurated in 1860, and it was dedicated to the Prince of Asturias. The title Prince of Asturias is given to the Throne heir since 1388, first in the Kingdom of Castille and later in whole Spain. The heir at the time was Prince Alfonso, later King Alfonso XII.
La Concepción Church :

This was the first parish church in Santa Cruz. It stands close to Santos ravine, in the area which was the town center during the XVII and XVIII centuries. A church was built in the same place in year 1498, only four years after Santa Cruz was founded. From the main entrance, built in charming colonial style, stands out a typical "Canarian Balcony" in carved Canarian-pinewood ('pinus canariensis').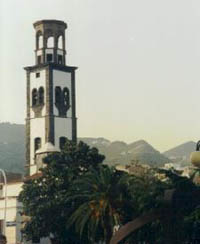 Maps of Tenerife
Click here to see a full map of the city.