La Orotava's Guide
The Villa de la Orotava (pop. 36,042) lies on the banana plantations of the Valley which bears its same name. This old town distinguishes itself by its magnificent and monumental architectonic structures, by its characteristic well shaded Canarian patios, squares and ancestral mellow houses.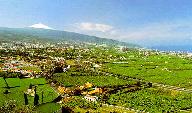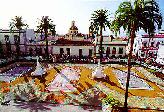 The old historic centre - declared monument of artistic national interest - must be mindfully visited. The Concepción Parish Church is also a national monument. The Casa de los Balcones (balconies' house) is a jewel of the Island's traditional architecture; in La Orotava one can also find the Documentation Research Centre of Spanish and American crafts.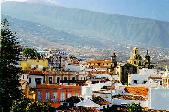 On the Orotava mountains there are many tourist paths where one can enjoy tracking excursions - some of which reach the great Cañadas del Teide, a protected National Park area.
The town also has a botanical garden - "La Hijuela del Botánico" - with more than 3,000 different tropical and sub-tropical vegetable species mainly of South and Central American, African and Australian origin. In the city centre one can also find the Jardín Victoria (Victorian Garden) - a recreational green area with many walking paths amid trees and flowers with its famous Carrara Marble Mausoleum designed by the French architect Adolph Coquet in 1882.
It counts with three beautiful dark-sand beaches - El Bollulllo, Martín Alonso and El Rincón - which are rarely crowded.
Maps of Tenerife
Click here to see a full map of the city.
More towns and cities
Know more towns and cities in the community of Tenerife.