Tenerife's Sports
Lucha Canaria
"Lucha Canaria" is a fight between 2 Men in a Ring, in which the winner is the one that manages to make his opponent touch the floor with any part of the body (except the feet of course). A Game is normally played between 2 teams of 12 fighters each. The winner team is the one that eliminates all players of the opponent team.
After reports from chronists who arrived with the spanish conquerors, the natives practiced a sport art, where man against man fighted each other. They called this sport "Lucha Canaria".
By each important public event they played this game and with the time it gained more and more followers. Since its origins the "Lucha Canaria" maintained different characteristics of the older natives: Nobility and simplicity, hability and suppleness, as well as admiring the winner and respecting the defeated.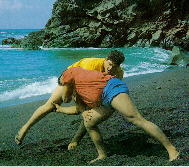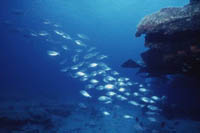 Dive Center Corralejo
Take a journey into the depths of the underworld, and experience the thrills of scuba diving in Tenerife.
The underwater volcanic rock formations and pinnacles abound with plankton and nutrients, nurturing abundant and diversified marine life.
Learn to scuba dive in Tenerife. Beginners lessons are offered and you can obtain a internationally recognized Scuba Divers Certificate (PADI) quickly and safely. Experience the wonderful underwater world on this uniquely volcanic island. Tenerife Scuba diving offers you exciting diving all year round.
Golf
The excellent Tenerife climate ensures that you can play and improve your golf every day of the year and at any level. This golf friendly island is rapidly becoming the migration point for golfers from all over the world between the months of October and May. For a small fee you can rent your golf equipment every club. In most of the clubs you'll find a very casual atmosphere. No club requires a membership.
Entertaining non-golfers in Tenerife is not a problem. Whatever your level, in Tenerife you can enjoy playing good golf courses, in sunshine and sub-tropical warmth, every day of your holiday. The new Playa Las Americas course is excellent, a challenging 9 hole course within 500 meters of the beach. Other places where you can play golf at the South of Tenerife: Golf Del Sur, Los Palos Golf, Golf Adeje and Amarilla Golf. Golf Club Real at the North of Tenerife.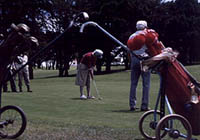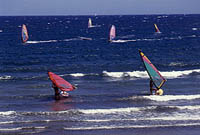 Surf and WindSurf
A very famous beach at the East of Tenerife that is ideal for practicing this sport is El Medano, a open, very flat beach. Although windy, it is not too choppy, making it an excellent all year windsurfing competition site. El Medano has already hosted the world championships. Facilities include, Wind surfing club, hire and instruction.
Sea Trips
From Tenerife one can go on excursions by sea, either in boats visiting other islands on organized cruises or by renting sailing crafts.
The southwest of Tenerife is ideal for these purposes, as its coast overlooks a quiet strait 27 kilometres wide separating the island from La Gomera.
This stretch of sea not only provides for easy and sunny sailing but also gives beatiful views of the mountains of both islands.
Snorkeling / Scuba coves
Puerto de Santiago: This rocky cove does not appear to have any particular name and is protected against out water by rocks. It has 3 different pools, usually calm and starting from very shallow to deeper water. All pools contain various marine life.
Playa San Juan: Located in the west of the island, the edges of this black sand beach are surrounded by rocks.
La Caletta: small Spanish village, great snorkeling cove with flat rocks into deeper water. Clear viewing, small flat reef, and located in the South of the island.
Buena Vista: Large rock pool formation with several pools and clear water. Located in the extreme North West of the island.
Trips to La Gomera
There is a ferry (phone: (+34) 922 700556) and a hydrofoil (Phone: (+34) 922 796178) which makes several trips daily from Los Cristianos harbour in Tenerife.
Submarine
In Los Galletas harbour there is a submarine which makes short immersions every hour. Phone: (+34) 922 730013)
Craft Rentals
In any of the marinas, crafts are rented with or withour crew.