Metro Maps
Madrid has a modern and efficient underground system and it is the fastest way of getting around the city. Trains run daily from 6:00am to 1:30am, you can either buy a ticket for a single journey or if you intend to use the underground several times a reduced rate 10 trip tickets are available as combined bus/underground card.
Download the Map:
Information:
Bus Maps
The bus system covers the entire city and outlying areas. The buses run from 6am to midnight. Reduced tickets for ten rides are available at local new stands, tobacconists' and booths at all major bus stops
Information:
Train Maps
Some train stations are connected to metro stations.
Download the Map:
GIF - high quality (102Kb)
Information:
Train station Atocha. Paseo de la Infanta Isabel, s/n. Telephone: 902 24 02 02
Train station Chamartin. C/ Agustín de Foxa, s/n. Telephone: 902 24 02 02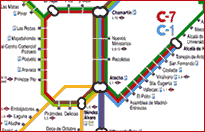 Airport Info
Daily flights connect Madrid's Barajas Airport and the leading cities of Europe and the rest of the world. Daily flights are also available to other major Spanish cities. Shuttle service runs between Madrid and Barcelona with regular departures between 7am and 11pm. Barajas Airport is 13 kilometers from the city. Bus and metro service is available from the airport.
Barajas Airport Information:
91 305 83 43
91 305 83 44
91 305 83 45
Fax: 91 393 62 00
Iberia's Information Line: 902 400 500
Flight bookings: 902 400 500
Airport Bus Terminal: 91 431 61 92
WEB: http://www.aena.es Iberia - Infoiberia: 93 401 32 82
Taxi
Taxis are plentiful in Madrid and can either be stopped in the streeet or ordered in advance through one of the following companies:
Radio-Taxi: 91 447 51 80
Independent Radio Taxi: 91 371 21 31
Tele Taxi: 91 445 90 08
Radio Telephone Taxi: 91 547 82 00
Taxi service for handicapped: 91 547 82 00 and 91 547 86 00