All but lost between France and Spain, like the fairy tale tea under the mattresses, the pocket-sized princedom of Andorra officially Principat d'Andorra, consist of only just a few hundred kilometres of mountainous landscapes and meandering rivers. The country is one of the smallest in the world with an area of 468 sq km and a population of 67,627. The capital is Andorra la Vella (population, 1998 estimate, 21,513). The tiny country is unique in Europe because you can't find a place situated below 900 metres. The mountaintops even reach over 3000 metres above sea-level.
As recently as 1960, Andorra was virtually cut off from the rest of the world, a semi-autonomous principality conceived late in the thirteenth century to resolve a quarrel between the counts of Foix in France and the bishops of La Seu. There are still no planes or trains, but Andorra's current role is as a drive-in, duty-free supermarket: the main highway through the tiny country is clogged with French and Spanish tourists after duty-free products.
More Information
Where to go
When to go
Money & Costs
History
Culture
Don't just pass through Andorra, if possible, get out of your car and see what else Andorra has to offer. In summertime, there are plenty of good hiking opportunities in the high, remote parts of the country, away from the over-development and heavy traffic that plague Andorra's towns. There's relatively little of cultural or historical interest, unless you consider duty-free shopping a form of artistic expression.
But you should visit Andorra la Vella, the capital of the principality and its largest town. These days, the town itself is given over almost entirely to the retailing of duty-free electronics and luxury goods. Happily, not all the vestiges of its 1100 year history have succumbed to the jackhammer.
Visit the Barri Antic (Old Quarter) which was the heart of Andorra la Vella when it was little more than a small Pyrenean village. The narrow cobblestone streets are still lined with storybookish stone houses. The pride of the Barri Antic is the Casa de la Vall (1580) (House of the Valley), bought by the General Council in 1702 and is now the seat of the Andorran Parliament. Cultural events take place at Plaça la Poble, a large public square that is bordered by a theatre and music academy. It's also a popular gathering spot for locals in the evening. In the Les Escaldes, suburb east of Andorra la Vella, Caldea Health Spa, one of Europe's largest health spas, is an enormous complex of pools, hot tubs and saunas enclosed in what looks like a futuristic cathedral.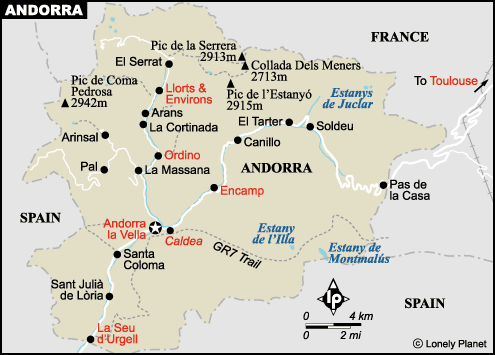 Visit La Seu, named after its imposing twelfth-century cathedral, is a small town with also a compact but atmospheric old quarter. The Cathedral itself, has been restored over the years but retains some graceful interior decoration and an exceptional cloister.
The Bridge at La Margineda, situated near the village of Santa Coloma, crosses the Valira and is part of the medieval road which linked the two most important population centres of the Principality of Andorra. The church in Santa Coloma is one of the oldest in Andorra.
As Andorran villages go, Ordino is a big one, but despite recent development (vacation homes and English speakers abound) it remains peaceful and traditional in character. The highlight of the town itself is the Museu d'Areny i Plandolit, ancestral home to one of the most illustrious families, the Areny Plandolits. The typically rugged design of the house and its interior furnishings are as Andorran as they come.
Though it is tiny, this political anomaly contains some of the most dramatic scenery - and the best skiing - in the Pyrenees. Encamp's local resorts, Soldeu-El Tarter, Pas de la Casa-Grau Roig and the Ordino-Arcalís ski area offer skiing and snowboarding and most rewarding hikes when the sun comes back. A number of peaks in the area top 2800m (9200ft).
Encamp has one of Andorra's few museums, the Museu Nacional de l'Automòbil and a short walk north of town is the Església Sant Romà de les Bons, which dates from the 12th century.
The ski season tends to begin around December and last through March, though many resorts buffer nature's contributions with manmade snow that prolongs the season well into springtime. Hiking season begins when the snowfall lets up and continues through until October. Hotels are at their fullest in July and August and from December to March.
Currency: Euro (€)
Meals
Budget: US$3-5
Mid-range: US$5-15
Top-end: US$15 and upwards
Lodging
Budget: US$10-20
Mid-range: US$20-50
Top-end: US$50 and upwards
2
Eating from markets and sleeping in tents, barebones budget travellers in Andorra should expect to spend at least US$10-15 per day, but this would be hard to keep up for any length of time. A more realistic budget, allowing a warm bed, a few restaurant meals and the periodic ski excursion, would be between US$40-70 per day. If you come in search of opulence, you should plan on shelling out nearly as much as you would in Paris or Barcelona: US$100 per day would just be scratching the surface. Andorra has no currency of its own, so locals trade mainly in French francs and Spanish pesetas. Prices are almost always quoted in pesetas, and you'll find the exchange rate for francs in shops and restaurants is seldom in your favor. Service charges are usually included in most bills, but porters and waiters expect a further tip of 10%. Andorra's very low tax regime has made it famous as a duty-free bazaar for electronic goods, cameras and alcohol. While today's prices no longer justify a special trip, you can still find prices 30% below those in Spain and France if you shop around.

Tradition credits Andorra's independence to Charlemagne, who captured the region from the Muslims in 803 AD. His son, Louis the Pious, presented the area's inhabitants with a charter of liberties. The earliest known document concerning Andorra is an order in 843 from Charlemagne's grandson, Charles II, granting the Valls d'Andorra (Valleys of Andorra) to Sunifred, Count of Urgell, from the nearby Spanish town of La Seu d'Urgell. The Act of Consecration for La Seu's cathedral, which dates from around 860, confirms Andorra's parishes as part of the count's territory.

The country's first constitutional documents, the Paretages (the Acts of Joint Overlordship), were drawn up in 1278 and 1288 to settle conflicting claims of seigniorial rights made by the Catholic Bishop of Urgell and the Count of Foix in France. These agreements, under which the bishop and count agreed to share sovereignty, form the basis of Andorra's government to this day and are among the oldest such documents still in force.The peculiar political equilibrium created by the arrangement saved Andorra from being swallowed up by its powerful neighbours despite recurrent tensions between the co-princes and the powers they represented. After the French Revolution, France - as inheritor of the lands and prerogatives of the Count of Foix - abolished all feudal rights, including the role of the French head of state in Andorran affairs.
This was reinstated by Napoleon in 1806, at the request of the Andorrans, who feared Spanish hegemony.Andorra's modern role as a centre for duty-free shopping grew out of the business of smuggling of French goods to Spain during the Spanish Civil War and Spanish goods to France during WWII. Andorra remained neutral throughout both world wars.In March 1993, Andorrans voted to establish the country as an independent, democratic 'parliamentary co-principality', placing full sovereignty in the hands of the Andorran people, with the French and Spanish co-princes continuing to function as joint heads of state with greatly reduced powers. Andorra joined the Council of Europe in 1994.
Until the 1950s, Andorra's population hovered around 6000. Today, only about a quarter of the population - almost two-thirds of whom live in Andorra la Vella and its suburbs - are Andorran nationals. The rest are mainly Spanish, French and Portuguese. The official language is Catalan (Català), a Romance language most closely related to Provençal but with roots in Castilian and French.
Local lore has it that everyone in Andorra speaks Catalan, Spanish and French, but there are plenty of people who can't understand more than 10 words of French. Hardly anyone speaks English. Andorran cuisine is mainly Catalan, with strong French and Italian influences. Sauces are typically served with meat and fish. Pasta is also common. Local dishes include cunillo (rabbit cooked in tomato sauce), xai (roast lamb), trinxat (bacon, potatoes and cabbage) and escudella (a stew of chicken, sausage and meatballs).