Bolivia, officially Republic of Bolivia, republic in central South America, bounded on the north and east by Brazil, on the south-east by Paraguay, on the south by Argentina, and on the west by Chile and Peru. the fifth-largest (after Brazil, Argentina, Peru, and Colombia) South American country. Bolivia and Paraguay are the only landlocked countries in South America. Bolivia, named after independence fighter Simon Bolivar, broke away from Spanish rule in 1825; much of its subsequent history has consisted of a series of nearly 200 coups and counter-coups. Comparatively democratic civilian rule was established in the 1980s, but leaders have faced difficult problems of deep-seated poverty, social unrest, and drug production. Current goals include attracting foreign investment, strengthening the educational system, continuing the privatisation program, and waging an anti-corruption campaign.
More Information
Where to go
When to go
Money & Costs
History
Culture
La Paz, the seat of government and the unofficial, administrative capital , is the world's highest capital city with 3600m. It contains many museums and provides visitors with modern and comfortable hotels. La Paz has many night-clubs, which generally open around midnight. On Fridays and Saturdays there are folk music and dancing shows which start late in the evening. Nearby attractions include Lake Titicaca, the Yungas Valleys, the Chacaltaya ski resort and the exceptional rock formations in the Moon Valley.
The Indians believe that lake Titicaca is holy because they think that on the Titicaca-island Isla del Sol civilization started, when the supreme-god Sun had sent 2 children to earth. Besides that there is an Isla de la Luna as well, with the remains of the templeof the Moon and a beautiful view on the Andes. Cochabamba, the garden city, boasts a long tradition of local culture and folklore and Tarija City's excellent climate, combined with beautiful flowers and fine wines, makes it ideal for finding peace and quiet. The states of Beni and Pando, in the heart of the jungle, occupy a region offering visitors dramatic and colourful landscapes.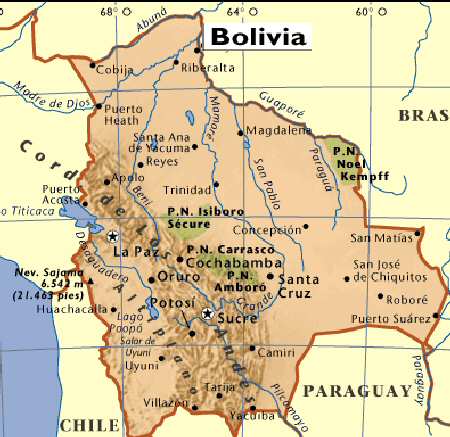 The 'Golden' Pantiti's many rivers provide popular land and water excursions. National dishes include empanada salteña (a mixture of diced meats, chives, raisins, diced potatoes, hot sauce and pepper baked in dough) and lomo montado (fried tenderloin steak with two fried eggs, rice and fried banana). Cruzena, is considered to be one of the best beers on the continent. In southern Bolivia, you can visit Sucre, the legal constitutional capital, more than 2,591 m above sea level. Sucre is south-east of La Paz, and its mountain setting, whitewashed buildings, and well-preserved architecture make it one of the most beautiful cities in Bolivia. Many of the buildings around the main plaza still retain Spanish colonial features in their archways, balconies, and porticos.
Over a dozen colonial churches and numerous museums also grace the city's streets and display its rich past. Visit the Casa de la Libertad, the Supreme Court, San Francisco Xavier University (1624), one of the oldest institutions of higher education in South America. Founded as Chuquisaca by Spanish settlers in 1538, near the site of a Native American village on the eastern slopes of the Andes, Sucre has been called Charcas and La Plata. It received its present name in 1840, in honour of the first Bolivian president, Antonio José de Sucre, a revolutionary who fought alongside Simón Bolívar. In 1809 Sucre was one of the first cities in South America to revolt against Spanish rule. It was named as the capital of Bolivia in 1839. Although the executive and legislative branches of the national government now operate in La Paz, the Supreme Court still convenes in Sucre, making the city the legal capital of Bolivia.
Bolivia lies in the southern hemisphere; winter runs from May to October and summer from November to April. The most important climatic factor to think of is that it's generally wet in the summer and dry in the winter. The highlands and altiplano can be cold in the winter and wet in the summer, the only serious barrier to travel will be the odd road washout. In the tropical lowlands, summer can be miserable with mud, steamy heat, bugs and relentless downpours. Travel is difficult, and services may be stifled by mud and flooding. The high tourist season falls in the winter (late June to early September), due to climatic factors, the timing of European and North American summer holidays and the fact that it's also Bolivia's major fiesta season.
Currency: Boliviano (B$)
Meals
Budget: US$2-5
Mid-range: US$5-10
Top-end: US$10 and upwards
Lodging
Budget: US$6-15
Mid-range: US$15-35
Top-end: US$35 and upwards
Bolivia is not an expensive country. Budget travellers can expect to spend somewhere around US$15 per day, while those staying in more comfortable hotels and eating at restaurants will drop around US$20-30 per day. Really living it up costs upwards of US$35, and top-end travellers can easily spend $150 per day on their hearts' desires. As a rule, visitors fare best with US dollars, the only foreign currency accepted throughout Bolivia. Currencies of neighboring countries may be exchanged in border areas and at certain La Paz casas de cambio. All casas de cambio change cash US dollars and some also change traveler's checks. You can often change money in travel agencies, jewelery or appliance stores and pharmacies. When exchanging money, ask for the cash in small denominations, as there are chronic problems with change. Major credit cards may be used in larger cities.
Civilization in the Bolivian Andes is thought to stretch back some 21,000 years. The most influential Pre-Columbian cultures were the Tiahuanaco, who were based around Lake Titicaca and who ruled the region between 600-1200 AD, and the Incas, who headed a vast empire comprising most of Peru, Bolivia, Ecuador and northern Chile. The Spanish conquest of the country began in 1531 under Francisco Pizarro. The conquistadors made rapid progress, exploiting the trust (and later the disunity) of the Indians to secure the territory that within two years became known as Alto Peru.
In 1544, deposits of silver were discovered at Potosí. The wealth generated by this find underwrote the Spanish economy (and the extravagance of its monarchs) for more than two centuries. However, conditions for the mine workers were appalling, with most of the enslaved Indians and Africans dying within a few years. The process of achieving independence from the profligate Spanish administration finally came in the form of Simón Bolivar's lieutenant Antonio José de Sucre, in the battle of Ayacucho in 1824. Bolivia was formally declared a republic the following year.

Bolivia's territory had always been coveted by its neighbors, encompassing as it did over 2 million square kilometers (780,000 sq mi). Chile's desire for more land first bore fruit in the War of the Pacific, which it fought with Bolivia between 1879 and 1884. Chile triumphed, securing 850km (527mi) of coastline and robbing Bolivia of the port of Antofagasta, leaving the country landlocked. Soon after, Peru, Brazil and Argentina also began hacking away at Bolivia's borders. In 1932, a border dispute with Paraguay in the Chaco region over oil deposits stripped Bolivia of further land. The ensuing Chaco War (1932-35) also served to foment civil unrest within the country, promulgating reformist associations and leading to a series of coups by reform-minded military leaders. Perhaps the most significant development during this time was the formation of the populist Movimiento Nacionalista Revolucionario (MNR). In 1951, the MNR, under the leadership of Víctor Paz Estenssoro, prevailed in the general elections but was stymied by a last-minute coup. The coup provoked a popular armed revolt which became known as the April Revolution of 1952. The military was subsequently defeated and Paz Estenssoro was brought back.
In 1964, a military junta headed by General René Barrientos overthrew the MNR. Military regimes subsequently came and went with monotonous regularity until the election of the leftist civilian Movimiento de la Izquierda Revolucionaria (MIR) under Dr Hernán Siles Zuazo in 1982. Three years later Zuazo was defeated by Paz Estenssoro, who immediately sought to curb the stratospheric inflation levels (at one point reaching 35,000% annually) and implemented austerity measures. The current president, Jorge Quiroga Ramírez, was promoted from the vice presidency in August 2001 after Hugo Banzer Suarez of the AND resigned. Bolivia is currently vying to strengthen its regional links and is a supporter of a South American common market.
It's reputation as a cocain-producing country in the early 1990s hurt relations with the US, the hemisphere's 800lb gorilla. This strained relationship exacerbated a severe recession that peaked in 1999 with a record 20% unemployment. While inflation has been reduced to around 4% annually, the country's history of economic instability still deters overseas investors. Bolivia's main structural problem is the huge gulf that seperates this divided society, half immersed in the world of 20th-century business and half who remain subsistent peasants.
Musical traditions within Bolivia are distinctly regional: strains of Andean music from the desolate Altiplano are suitably haunting and mournful, while those of warmer Tarija, with its compliment of bizarre musical instruments, take on more ebullient tones. Dances such as the cueca, auqui-auqui and tinku hold a reverent place in popular culture. Other forms of folk expression include spinning and weaving, which display regional differences but have changed little over the last 3000 years. Spanish is the official language, yet only 60 to 70% of the people actually speak it, and then often only as a second language. The remainder speak Quechua, the language of the Inca, or Aymará, the pre-Inca language of the Altiplano.
Roughly 95% of Bolivia's population professes to be Roman Catholic, but the absence of clergy in rural areas has led to a synthesis of Inca and Aymará beliefs with Christianity. The hybrid Christian/folk religion is an interesting conglomeration of doctrines, rites and superstitions. Bolivia's food is dominated by meat dishes, accompanied by rice, potatoes and shredded lettuce. Sometimes llajhua (a hot sauce made from tomatoes and pepper pods) will be used to add spice and flavor to a dish. Bolivian beer, wine and chicha (industrial-strength maize liquor) are all good but be warned: if invited to drink with locals, be prepared as the alcohol is strong and Bolivian drinking habits lusty.