Although no one says no to a casual meander along its grand urban boulevards, travelers are drawn to this string bean of a country because of its spectacular Pacific coastline and Andean highlands, and because of the opportunities it offers for adventure sports. Chile's distinctive culture has survived the violence and repression of its recent history and is thriving once again thanks to a people noted for their warmth and resilience. Despite having the most European community in South America, indigenous traditions persist in the Andean foothills and in the southern plains, while some of South America's finest national parks draw trekkers and guanaco spotters alike.
More Information
Where to go
When to go
Money & Costs
History
Culture
Santiago: Sprawling outwards and sky-scrapering upwards, Chile's capital, Santiago, is immense. Its central core, however, is manageable and relatively small - a roughly triangular area bounded by the Rio Mapocho on the north. It is a city of grand thoroughfares and plazas, lined with public buildings and churches and circled by parks. The grid town plan imposed by the Spanish, however, is conducive to traffic jams and pollution. The Virgin Mary guards the city from the peak of the 860m (2821ft) Cerro San Cristóbal, part of the Parque Metropolitano recreational area. The city's attractions include the colorful Mercado Central, the historical center of Plaza de Armas, the pedestrian mall of Paseo Ahumada (haunt of buskers and peddlers) and the late-colonial and block-filling Palacio de La Moneda - former mint, presidential residence and the site of Allende's last stand.
Santiago has plenty of museums, including the beautifully arranged Pre-Colombian Museum and the Museo de Santiago, which documents the city's present sprawl with dioramas and reconstructions. The Palacio de Bellas Artes is modeled on the Petit Palais in Paris and has a fine collection of European and Chilean art. Santiago's main budget hotel area is the seedy section of town near the Terminal de Buses Norte. Moderate and top-end hotels can be found in the central area bounded by Avenida Balmaceda and Avenida General O'Higgins (popularly known as the Alameda). Restaurants, from fast to flash, are in abundance, especially around the bus terminals, pedestrian malls, Alameda and Plaza de Armas. Bellavista, known as the 'Paris quarter', is one of the city's liveliest areas, with countless ethnic eateries and an active crafts fair on Friday and Saturday evenings.
Valparaiso: Lying 120km (74mi) northwest of Santiago, Valpo is Chile's principal port and second-largest city. Despite its size, it is Chile's most distinctive city and one of South America's most intriguing. Occupying a narrow strip of land between the waterfront and the nearby hills, its convoluted center has distinctive, sinuous cobbled streets, and is overlooked by precipitous cliffs and hilltop suburbs which are accessed by funicular railways and stairway footpaths. It truly is a rabbit-warren of a place, which probably only a lifetime resident could completely fathom. It is conducive to maze-like strolls and rides on the funicular, and its natural history, fine arts and maritime museums are justly famed. Muelle Prat, the recently redeveloped pier, is a lively market area.
Viña del Mar: Chile's premier beach resort is only 10km (6mi) north of Valparaíso, and is popularly known as the Garden City because of its manicured subtropical landscape of palm and banana trees. Horse-drawn carriages trot past attractive turn-of-the-century mansions on both river and beach frontages. Other attractions are the white-sand beaches, numerous parks and notable museums housed in restored mansions. The town is also the home of Chile's national botanical garden, comprising 61 hectares (151 acres) of native and exotic plants.
La Serena: Important both historically and economically, the beachside city of La Serena is one of Chile's oldest post-Columbian cities. The region's silver, copper and agriculture were so important that the city had its own mint. Today, La Serena maintains a colonial air, although it is threatening Viña del Mar's supremacy as the premier beach resort. Apart from a string of beautiful beaches, attractions include a handful of museums and a number of nearby quaint villages and vineyards.
Parque Nacional Puyehue: Situated in the beautiful Lake District, this is Chile's most popular national park. It preserves 107,000ha (264,290ac) of verdant montane forest and starkly awesome volcanic scenery. Dense forest hides puma, the rare pudú (a miniature deer) and prolific bird life, including the Chilean torrent duck. Nature trails, lake views, ski resorts, thermal springs, waterfalls and examples of some of Chile's strange plant life, in particular the umbrella-leaved nalca and multi-trunked ulmo, are some of the many attractions which draw visitors.
Puerto Montt: Settled by German colonists in the mid-19th century, this is one of southern Chile's most important cities. It features middle-European architecture, with shingles, high-pitched roofs and ornate balconies. The redwood cathedral on the city's plaza is the city's oldest building, dating from 1856. Puerto Montt is the transport hub and access point to the southern Lake District, the island of Chiloé and Chilean Patagonia. The nearby port of Angelmó and the island of Tenglo offer a more relaxed atmosphere. Angelmó has an outstanding crafts market and fabulous seafood.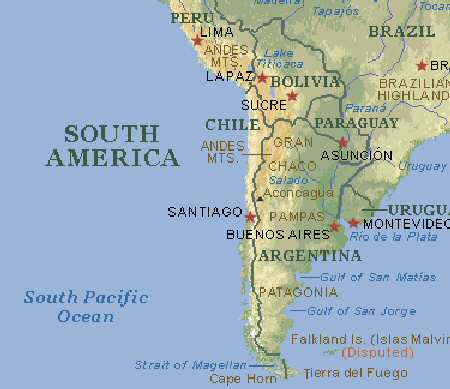 Chile's geographical variety can make a visit rewarding in any season. Santiago and Middle Chile are best in the verdant spring (September through November) or during the fall harvest (late February into April), while popular natural attractions like Parque Nacional del Paine in Magallanes and the lakes region are best in summer (December through March). Conversely, Chilean ski resorts draw many foreigners during the northern summer (June through August). Easter Island is cooler, slightly cheaper and much less crowded outside the summer months. The same is true of the Juan Fernandez archipelago, which can be inaccessible if winter rains erode the dirt airstrip; March is an ideal time for a visit. Chile Schools · Iquique Spanish School · Santiago Spanish School · Viña del Mar School
Currency: peso (Ch$)
Meals
Budget: US$2-10
Mid-range: US$10-15
Top-end: US$15 and upwards
Lodging
Budget: US$10-20
Mid-range: US$20-40
Top-end: US$40 and upwards
Revaluation of the Chilean peso and tourist sector inflation has increased travel costs substantially in the past few years, so that Chile is no longer inexpensive. It is still possible to travel on a budget, since modest lodging, food and transport are still more economical than in Europe, North America or even Argentina. Allow a minimum of US$25 per day for food and lodging, but if you purchase your food at markets or eat at modest restaurants you may be able to get by more cheaply. Travelers' checks are unquestionably safer than cash, but in smaller towns and out-of-the-way locations, it can be difficult to find a bank that will change them, so carrying some cash is a good idea. Only ATMs in larger cities will be compatible with international debit systems like Plus or Cirrus. Credit cards are fairly widely accepted.
In restaurants, it is customary to tip about 10% of the bill. In general, waiters and waitresses are poorly paid, so if you can afford to eat out, you can afford to tip. Taxi drivers do not require tips, although you may round off the fare for convenience. Long-distance bus or shared taxi fares are negotiable. Purchases from handicrafts markets will be subject to bargaining, and haggling on hotel prices is possible in the off-season or for long stays.
Pre-Columbian Chile was peopled by a variety of ancient cultures, many of them politically subject to the Incas who they predated by many centuries. The country's varied topography governed the character of its population groups and the extent to which they were subject to Inca aggression. Native groupings included Aymara farmers in the desert north, who cultivated maize and tended flocks of llamas and alpacas; fisherfolk in the coastal areas; Diaguita Indians in the mountainous interior; Araucanian Indians in the center and south, whose fishing and agricultural settlements were barely touched by Incan incursions; and numerous groups of archipelagic hunters and fishers in the remote south. All territory west of Brazil was granted to Spain by the 1494 Spanish-Portuguese treaty.
The Spanish assigned the task of conquering Chile to Pedro de Valdivia, whose expedition reached Chile's fertile Mapocho Valley in 1541. Santiago was founded in the same year, with the cities of La Serena, Valparaíso, Concepción, Valdivia and Villarrica following soon after. The Río Biobío marked the southern extent of Spanish incursions, where they were barred by the resistance of the fierce Mapuche tribes. Valdivia rewarded his followers with enormous land grants, which resembled the great feudal estates of his Spanish homeland. Although mining and business outstripped agriculture as Chile's merchant megaliths, it was the social structure of the estates which shaped colonial Chile. The native population was devastated by the unwitting introduction of infectious diseases, and the mestizo population, the offspring of Spanish and Indian unions, were used as tenant laborers on these huge estates, many of which were still intact in the 1960s.
By the 1820s, the cumbersome methods by which taxation was extracted by a stagnant and complacent Spain allowed a flowering pan-American identity to blossom into a push for full independence. Simón Bolívar and José de San Martín led armies of freedom fighters from Venezuela to Peru, and from Argentina into Chile. Bernardo O'Higgins, son of an Irish immigrant and erstwhile viceroy of Peru, became supreme director of the new Chilean republic. The newly independent Chile was a fraction of its eventual size, consisting of Santiago and Concepción, and with fuzzy borders with Bolivia and Argentina. The coming of the railways and military triumphs over Peru and Bolivia in the War of the Pacific (1879-83) incorporated the mineral-rich Atacama desert to the north and the southern temperate territories. Chile quickly achieved a degree of political stability and relative democracy, enabling rapid agricultural development and the advancement of mining, industry and commerce. The now empowered working class and the nouveau riche both challenged the political power of the landowning oligarchy in a brief but bloody civil war in the 1890s.

The first half of the 20th century saw the political climate swing between right and left with no government having sufficient support to cement large scale reform. Infrastructure development was generally sluggish, leading to rural poverty and urbanization through desperation. It was not until the 1960s that social reforms were successfully instituted by the Christian Democrats, who targeted housing, education, health and social services. These policies threatened the conservative elite's privileges and also offended the radical left. Chile's politics were becoming increasingly militant, polarized and ideology-based when the Marxist Allende's leftist coalition of Socialists, Communists and extremists snuck to victory in 1970. Allende introduced sweeping economic reforms, including the state takeover of many private enterprises and the wholesale redistribution of income. The country was plunged into economic chaos and America was miffed by the expropriation of US-controlled copper mines, and also by Chile's conspicuously friendly relations with Castro's Cuba.
General Pinochet seized power in a bloody coup on 11 September 1973 using jets to bomb the presidential palace. Allende died, apparently by his own hand, and thousands of his supporters were murdered. Dark days followed, with assassinations, purges and enforced exiles commonplace. It is estimated that as many as 80,000 people were tortured or murdered. Rumors of CIA involvement in the coup were given credence by the US-instigated suspension of credit from international finance organizations, and the contemporaneous financial and moral support given to Allende's opponents. At the head of a four-man junta, Pinochet dissolved Congress, banned leftist parties and suspended all opposition. Pinochet's monetarist economic policies brought stability and relative prosperity, but in a 1988 referendum to approve his presidency, voters rejected him by a majority of 7%. In the 1989 multiparty elections, Christian Democrat Patricio Aylwin beat Pinochet's candidate, Hernan Buchi, and power was peacefully transferred. Democracy returned to Chile although many of the previous regime's power brokers wield a lingering influence.
Eduardo Frei undertook the challenge of reconciling Chileans with their difficult past by accelerating human rights tribunals and inquiries into the fate of Chile's 2000 'disappeared'. Unfortunately, resistance from the political arm of the military machine severly hampered his efforts. Frei also struggled in matters of constitutional reform, failing to eliminate eight 'institutional senators' appointed by Pinochet who are not subject to a popular vote. Frei's economic reforms, however, did help alleviate crushing poverty to some degree. Newly elected President Ricardo Lagos, formerly Frei's public works minister, is the first Socialist to hold the highest office since Allende. He defeated his right-wing rival, Joaquin Lavin, by a thin margin, securing 51.3% of the vote. The newest wildcard in Chilean politics is Sentilde;or Pinochet himself, whose arrest in London in 1999 at the request of a Spanish judge investigating human rights violations unleashed an international furor. The general's temporary detention brought unresolved issues into the open for the first time in decades, but in February 2000 the general was pronounced too ill to stand trial and in early March he returned to Chile.
Chile's European heritage is pervasive, meaning that Western travelers here are less conspicuous than in neighboring Peru and Bolivia. For centuries, the Paris education of many Chilean intellectuals influenced the country's art, music and architecture. Important art galleries, museums and a thriving theater scene are the result. The country's art, literature and music have been influential internationally. Chile has spawned the Nobel Prize-winning poets Gabriela Mistral and Pablo Neruda and, until the military coup of 1973, its cinema was among the most experimental in Latin America. Folk music has been an especially important outlet for the country's oppressed, and was frequently performed overseas by exiles during Pinochet's reign. Over 90% of the population is Roman Catholic, though evangelical Protestantism is becoming increasingly popular. The country's Catholic architecture is impressive and ubiquitous, from grandiose colonial churches to roadside shrines, some of which are extraordinary manifestations of folk art. Spanish is Chile's official language, though a handful of native languages are still spoken. In the north, there are more than 20,000 speakers of Aymara, and in the south there are perhaps half a million speakers of Mapuche. The most intriguing linguistic minority is the 2000-plus speakers of Rapa Nui, the Polynesian language of most of Easter Island's population.
Chile's cuisine reflects the country's topographical variety, and features seafood, beef, fresh fruit and vegetables. Empanadas are large turnover snacks with a variety of fillings; humitas are corn tamales; and there are a variety of potato and flour-based breads. Chile's biggest standard meal is lomo a lo pobre - an enormous slab of beef topped with two fried eggs and buried in chips. The parillada, which will appall vegetarians and heart specialists, is a mixed grill including such delicacies as intestines, udders and blood sausages. Curanto, one of the nation's finest dishes, is an all-encompassing, hearty stew of fish, shellfish, chicken, pork, lamb, beef and potato. Chilean wines are arguably South America's best. A pisco sour is a popular drink which easily gets you piscoed - it's a grape brandy served with lemon juice, egg white and powdered sugar.