Republica del Ecuador or the "Republic of the Equator" was one of three countries that emerged from the collapse of Gran Colombia in 1830 (the others being Colombia and Venezuela). In Western Latino America, bordering the Pacific Ocean at the Equator, the phrase 'small is beautiful' could have been coined specifically with Ecuador in mind. By South American standards it is tiny (only half the size of France), the smallest country in the rugged Andean highlands and dwarfed by its neighbours Colombia and Peru. But it is this relative compactness which is one of its main attractions and it's among the most rewarding travel destinations in South America. With its array of vibrant indigenous cultures, well preserved colonial architecture, otherworldly volcanic landscapes and dense rainforest, it packs its perimeters with more points of interest than many countries twice its size.
More Information
Where to go
When to go
Money & Costs
History
Culture
If you've only got a few weeks in which to explore a place, you really don't want to spend half your time in an aircraft or on a bus. Here, you can watch dawn break over the jungle canopy, have lunch high in the Andean mountains, then watch the sun slip into the Pacific Ocean, all in the same day. Ecuador is comprised roughly in 4 distinct geographical regions: El Oriente (Amazon Jungle) in the east, La Sierra (Andes Mountains or the Highlands) in the center, La Costa (the Pacific lowlands) in the west and of course the Galapagos Islands, a 1000 km off the coast. When you're in El Oriente and you want to visit a typical jungle town, go to Tena. Tena is the kind of place you expect to run in to Indiana Jones and where you can spot Quichua Indians, the local inhabitants. It is the perfect launching place point for a jungle trek, a spelunking expedition or a kayaking trip down one of the rivers. In La Sierra is the most visited region in the country and contents 47 % of the population. Go to the capital Quito which is often described as a city with a small town atmosphere (although it is rapidly growing into a sprawling metropolis).
Once the capital of the northern Incan empire, Quito is home to "Old Town", one of the most extensive colonial districts in Latin America. See the "Old Town" with its colourful street life and crowded plazas, see art and lots of gold in the museum Casa de la Cultura and richly decorated colonial churches and busy, pleasant town parks. Go out in one of the many bars, or go eat barbecued guinea pig! Visit cities like Otavalo (with its most famed Indian market) and the hotspring baths of Baños, a town situated in a valley of eternal spring. Go to Mitad del Mundo (of the world), a monument marking the equator and Don't miss the opportunity to place one foot in each hemisphere! Or dare to climb the peaks of Ecuador's tallest volcano, Chimborazo (6,310 meters) and the Cotopaxi volcano, highlight of Cotopaxi National Park. In Cuenca, Ecuador's third largest city, and one of the prettiest and therefore a great place to spend a few days relaxing in the colonial atmosphere or visiting the nearby Incan ruins of Ingapirca In Ibarra, also known as the White City for its colonial whitewashed buildings. You can hop aboard the train which rolls its way down from the Andes to the coastal town of San Lorenzo. Being in La Costa a sneak peak in the city of Guayaquil wouldn't hurt you at all. Guayaquil is Ecuador's largest city, most populous urban area and a significant South American trading hub. But other than that Guayaquil having a very vivid nightlife, you can enjoy yourself by going to cafés, bars, discotheques etc.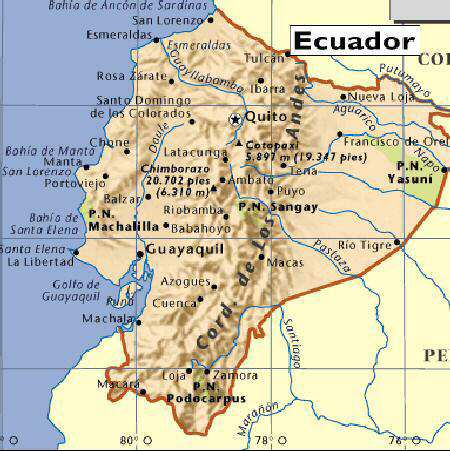 The picturesque colonial district of Las Pe¤as, with its working docks and bobbing restaurant boats makes a good place to eat seafood, sip a beer and watch the city's river traffic. The chocolate-coloured Guayas River teems with fragile rafts paddled by banana peddlers, huge ocean liners, dugout canoes and fishing trawlers. Other cities are worthwhile a view but in a coastal area you really ought to relax, swim dive, go snorkelling etc.
You can visit Ecuador year-round; certain areas are better at certain times of the year, but there are no absolutes and Ecuador is not overcrowded at any time of the year. In terms of the weather, El Niño hits hard about one winter every decade, making road and rail connections impracticable and communication spotty in some outlying areas. Ecuador's climate is so varied and variable that any time of the year is good for a visit. In the highlands, every valley seems to have its own microclimate but, generally, in the northern and central Andes, the driest months are June to September. In the southern highlands the driest months are August to January.
Currency: sucre/US dollar
Meals
Budget: US$1-5
Mid-range: US$5-30
Top-end: US$30 and upwards
Lodging
Budget: US$2-15
Mid-range: US$15-70
Top-end: US$70 and upwards
Costs in Ecuador are among the lowest in Latin America. From year to year, prices for travel basics like transportation, meals and lodging may vary up or down by as much as 50%, but they remain cheap by Western standards. On 14 March 2000, President Gustavo Noboa ratified a law making the US dollar legal tender in Ecuador. The dollar is replacing the sucre at a rate of US$1 = 25,000 sucres. The government claims 'dollarization' will reduce Ecuador's chronic inflation (approaching 100%), and decrease the national debt. Ecuador has a two-tier pricing system in effect, and foreigners pay a lot more for certain services (mainly transportation and top-end hotels) than locals do. It's colloquially known as the 'gringo tax' and is avoidable by staying in budget to mid-range hotels and by taking buses rather than trains or planes. Doing so, travelers on a budget should be able to get by on as little as US$10 per day, including the periodic indulgence. A less frugal approach to visiting Ecuador might set you back US$50 to US$80 per day, allowing more comfort in travel and sleeping arrangements and a more interesting diet. Living like visiting royalty is also an option, and you can play the part for a modest outlay of around US$150 per day.
Banks and casas de cambio are your best bets for changing money, and their rates don't vary too much whether you're changing cash or travelers' checks. Major credit cards are widely accepted in tourist areas and big hotels, though merchants will often add a surcharge of 6% to 8%. Credit cards are also increasingly accepted at Ecuadorian ATMs and for cash advances at banks, though not all branches provide this service. Cheaper hotels, restaurants and stores typically don't accept credit cards. Tipping is expected by tour guides, porters and other tourist industry workers, though not by taxi drivers. Quality restaurants add 10% tax and a 10% service charge to their bills; cheaper restaurants usually don't. If you want to tip your server, give the money to them directly - don't just leave it on the table. Bargaining is accepted and expected at craft markets. Elsewhere, if you're not sure, try asking for a descuento (discount) - these are often available in touristed places.
The history of pre-Inca Ecuador is lost in a misty tangle of time and legend, and the earliest historical details date back only as far as the 11th century AD. It is commonly believed that Asian nomads reached the South American continent by about 12,000 BC and were later joined by Polynesian colonizers. Centuries of tribal expansion, warfare and alliances resulted in the relatively stable Duchicela lineage, which ruled more or less peacefully for about 150 years until the arrival of the Incas around 1450 AD. Despite fierce opposition, the conquering Incas soon held the region, helped by strong leadership and policies of intermarriage. War over the inheritance of the new Inca kingdom weakened and divided the region on the eve of the arrival of the Spanish invaders. The first Spaniards landed in northern Ecuador in 1526. Pizarro reached the country in 1532 and spread terror among the Indians thanks to his conquistadors' horses, armor and weaponry. The Inca leader, Atahualpa, was ambushed, held for ransom, 'tried' and executed, and the Inca empire was effectively demolished. Quito held out for two years but was eventually razed by Atahualpa's general, Rumiñahui, rather than be lost intact to the invading Spaniards. Quito was refounded in December 1534. Today, only one intact Inca site remains in Ecuador - Ingapirca, to the north of Cuenca.
There were no major uprisings by the Ecuadorian Indians, though life was abysmal under Spanish rule. Spain ruled the colony from Lima, Peru, until 1739, when it was transferred to the viceroyalty of Colombia. It was largely rural and conservative, with large estates of introduced cattle and bananas farmed by forced labor. As a Creole middle class began to emerge, there were several attempts to liberate Ecuador from Spanish rule. Independence was finally achieved by Simón Bolívar in 1822. Full constitutional sovereignty was gained in 1830. The country's internal history has since been marked by fierce rivalry and occasional open warfare between the church-backed conservatives, based in Quito, and the liberals and socialists of Guayaquil. Over the last 100 years, assassinations and political instability have increasingly invoked military intervention, and the 20th century has seen more periods of military rule than of civilian. In 1941, neighboring Peru invaded Ecuador and seized much of the country's Amazonian area. The 'new' border between the two countries - initially agreed upon and ratified by the 1942 Rio de Janeiro treaty - was finally recognized by both counties in a 1998 treaty.

The squabbling ultimately died down because both countries were eager to impress potential foreign investors, who tend to be scared off by territorial skirmishes. Despite its history of internal rivalry, border conflicts and six presidents in less than six years, life in Ecuador remained relatively peaceful up until the end of the millennium. In an attempt to stop the decline of Ecuador's currency, the sucre, which lost 75% of its value in less than a year, soon-to-be deposed president Jamil Mahuad made an unpopular announcement on January 10th that he would 'dollarize' the economy, replacing sucres with US dollars at a rate of 25,000 sucres per dollar. Thousands of non-violent protestors, including many indigenous leaders denouncing neoliberal economic policies, subsequently occupied government buildings in Quito and forced Mahuad's resignation. Mahuad's vice-president, Guastavo Noboa, took office on January 22, 2000. Noboa was presented as one of the few honest politicians in a country where political corruption is the norm, although his political experience was minimal. His first comments were that he would eliminate political corruption and that he agreed with dollarization. Noboa has continued apace with implementation of dubious International Monetary Fund (IMF) economic 'structural adjustment' policies, in the face of increasing indigenous and working class opposition.
For travelers, this political upheaval presents pluses and minuses. The advantages are that prices remain low for risk-taking travelers with US dollars; the disadvantages are that protests often blockade roads and disrupt overland transport. Upscale travel to the Galapagos Islands hasn't been affected much, but a massive Janurary 2001 diesel tanker spill that released a 200,000 gallon oil slick just off the coast of San Cristobal Island has persuaded many packaged tourists to cancel their trips for the time being.
Ecuador's pre-Columbian peoples excelled in pottery, painting, sculpture, gold and silver work. The Spaniards trained indigenous artists to produce colonial religious art, which can be seen in many churches and museums. The Quito School of the 17th and 18th centuries combined these two influences but was replaced by formalism after independence, which favoured subjects such as heroes of the revolution and members of high society. Ecuador's colonial religious architecture is predominantly baroque, although domestic architecture tends to be simple and elegant, comprising whitewashed verandahed houses built around a central courtyard. Traditional Andean music has a distinctive haunting quality based on an unusual pentatonic scale. Wind and percussion instruments, including bamboo panpipes and flutes, are staples of the sound. Local crafts include fine examples of basketry, leather work, woodcarving, weaving, ceramics and jewelry.
About 40% of Ecuador's present population are Indians, and another 40% are mestizos. The ethnicity of the coastal population changes from north to south. Esmeraldas has the highest percentage of Afro-Ecuadorians of any province, and it also has several Indian tribes upriver from the coast. Further south, the population is more mestizo - the typical Spanish-Indian mix prevalent through Latin America. The predominant religion is Roman Catholic, but there is a scattering of other Christian faiths. Indigenous Ecuadorians, while outwardly Catholic, tend to blend Catholicism with their traditional beliefs. Spanish is the main language, although most highland Indians are bilingual, with Quechua being their preferred language and Spanish their second tongue. Several small lowland groups speak their own languages. English is understood in the best hotels and in airline offices and travel agencies, but it's of little use elsewhere. Ecuadorian food consists mainly of soup and stews, corn pancakes, rice, eggs and vegetables. Seafood is particularly good, even in the highlands. Local specialties include caldo de pates, a soup made from cattle hooves; cuy, whole roasted guinea pig; and lechón, suckling pig. Guayaquil, the heart of the south coast, has the gamut of cuisines. Patacones, fried plantain chips, are a favorite side dish of the coastal dwellers.