Mexico is a traveller's paradise, crammed with a multitude of opposing identities: desert landscapes, snow-capped volcanoes, ancient ruins, teeming industrialised cities, time-warped colonial towns, glitzy resorts, lonely beaches and a world-beating collection of flora and fauna. The bursting megalopolis of Mexico City is a one-hour flight from the tropical rainforests and Mayan villages of Chiapas. Up along the northern border, Mexico's tumult of heritages merge with the air-conditioned cultures of California, Arizona, New Mexico and Texas. Mexico's profusion of people and landscapes reflects the country's extraordinary history - part Amerindian, part Spanish. One look at this country is enough to remind visitors that there is nothing new about the so-called New World. Despite the considerable colonial legacy and rampant modernization, almost 60 distinct indigenous peoples survive, largely thanks to their rural isolation. This mix of modern and traditional, the clichéd and the surreal, is the key to Mexico's immense popularity as a travel destination, whether your passion is throwing back margaritas, listening to howler monkeys, surfing the Mexican Pipeline, scrambling over Mayan ruins or expanding your Day of the Dead collection of posable skeletons.
More Information
Where to go
When to go
Money & Costs
History
Culture
Mexico City: Mexico City is a place to love and loathe, with everything you'd expect to find in the world's third-largest metropolis (only Tokyo and NYC are bigger). Mexico's best and worst ingredients are magi-mixed in this polluted and bustling megalopolis of music and noise, brown air and green parks, colonial palaces and skyscrapers, world-renowned museums and ever-spreading slums. The city's historic center is the Plaza de la Constitución, or Zócalo. The plaza was paved in the 1520s by Hernán Cortés, using stones from the temples and palaces of the Aztec city of Tenochtitlán he'd destroyed, and on which Mexico City was built. The original Aztec city was on an island in the middle of a lake, so many of Mexico City's older buildings and churches are sinking into the boggy ground on which they were constructed. Filling the entire eastern side of the Zócalo is the Palacio Nacional (National Palace), built on the site of an Aztec palace and formerly used to house the viceroys of New Spain. It is now home to the offices of the president and a museum devoted to the life of Benito Juárez, but most people come here to see Diego Rivera's fabulous murals, which chronicle Mexico's history. The Aztecs' sacred precinct stood on the huge site now occupied by the Catedral Metropolitana, on the northern side of the Zócalo. The cathedral was built between 1573 and 1813 on the site of the Aztecs' tzompantli (an altar of sorts on which the skulls of the sacrificed were placed). Just east of the cathedral are the remains of the Templo Mayor, the Aztecs' principal temple. Much of the site has been excavated, revealing the temple's multiple layers of construction and the extraordinary bloodiness of the rituals that took place there. An excellent museum displays artifacts discovered during the excavations.
Less than a 10-minute walk away is the Alameda, once an Aztec marketplace and now the city's largest downtown park. The streets around the Alameda are lined with the city's most interesting buildings, including colonial mansions, lively cafes, restaurants, shops and markets. Other must-sees include the Bosque de Chapultepec, Mexico City's largest park and home to museums, lakes, a zoo and the official residence of the president; the Basilica de Nuestra Señora de Guadalupe, the church built on the spot where Mexico's patron saint was seen in a vision; the colonial houses, cobbled streets, fabled craft market and Rivera-Kahlo related sites of San Ángel; and the ancient canals of Xochimilco, jammed with day-glo pleasure boats on weekends. The Zona Rosa is the city's major highlife and nightlife district. Condesa and Roma to the south of Zona Rosa also serve up good food and entertainment. The best moderately priced hotels are found in the areas west of the Zócalo and south of the Alameda. Excellent cheap food can be found in most areas of the city, particularly from street stands and comedores.
Teotihuacan: Some of Mexico's best attractions are only a day trip from Mexico City. If there is any 'must see' in this region it has to be Teotihuacán, just 50km (31mi) northeast of the capital. Teotihuacán was Mexico's biggest ancient city and the capital of the country's largest pre-Hispanic empire, boasting 200,000 inhabitants at its peak in the 6th century. If the hawkers don't get the better of you, a day here can be a mind-blowing experience. The site's main drag is the famous Avenue of the Dead, a monumental 2km (1.2mi) thoroughfare lined with the former palaces of Teotihuacán's elite. To its south is the pyramid-bedecked La Ciudadela, believed to have been the residence of the city's supreme ruler. Enclosed within the citadel's walls is the Quetzalcóatl Temple, with its striking serpent carvings. Heading north, the avenue passes the world's third-largest pyramid: the awe-inspiring, 70m (230ft), 248-stepped Pyramid of the Sun. The pyramid was originally painted a suitably sun-drenched, bloody red. The avenue terminates at the Pyramid of the Moon, flanked by the 12 temple platforms of the Plaza de la Luna. Nearby are the beautifully frescoed Palace of the Quetzal Butterfly, the Jaguar Palace and the Temple of the Plumed Conch Shells. Teotihuacán's most famous mural, the Paradise of Tláloc, is in the Tepantitla Palace, a priest's residence northeast of the Pyramid of the Sun. The site has a museum to help make sense of it all; bring a hat, water and your walking shoes.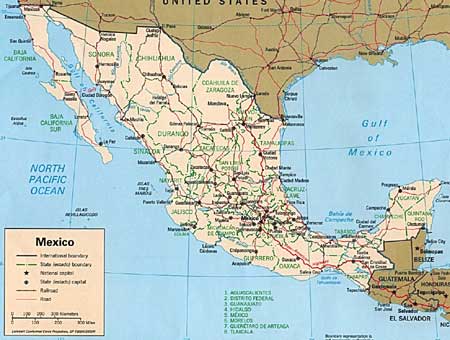 Baja California: With Tijuana as its frontier post, Baja is the epitome of 'south of the border'. The peninsula is renowned for its long coastline of fine white beaches, peaceful bays and imposing cliffs, sharply contrasting with the harsh and undeveloped interior. Baja has long been a hideout for revolutionaries, mercenaries, drinkers and gamblers, but these days visitors are attracted by more healthy pursuits like horseback riding, surfing and whale-watching. Highlights include Loreto, with its Spanish mission history and offshore national park; the extraordinary pre-Columbian rock-art sites of Sierra de San Francisco, near San Ignacio; La Paz, the laid-back capital of Baja California Sur and known for its equally gorgeous beaches and sunsets; and the hiking paradise of Sierra de la Laguna, a botanical wonderland of coexisting cacti and pines, palms and aspens set beside granite rockpools.
Chihuahua-Pacific Railway: Mexico's most scenic railway connects Los Mochis on the Pacific coast with Chihuahua in the country's arid inland. The route takes 14 to 16 hours, and includes several stops in the fabled Barranca del Cobre (Copper Canyon) - actually a group of 20 canyons, and all up four times larger than the Grand Canyon. The 655km (406mi) train line passes through 86 tunnels and over 39 bridges as it cuts through the Sierra Tarahumara's sheer canyons, hugging the sides of towering cliffs and offering dizzying glimpses of river beds far below. The views are stunning, particularly between Creel and Loreto; they're generally best on the right side of the carriage when heading inland (east) and on the left when heading to the coast (west). Stops along the way include the attractive colonial town of El Fuerte; Divisadero, with excellent views down into the 2300m (7544ft) depths of Copper Canyon; Areponápuchi, teetering right on the canyon's edge; Creel, a base for hikers and the regional center for the local Tarahumara people; and the Mennonite hub of Cuauhtémoc.
Puerto Vallarta: Cobblestoned and whitewashed Puerto Vallarta is one of the central Pacific coast's best-known beach resorts. Nestled beside the Río Caule, between palm-covered mountains and flanking the azure Bahía de las Banderas (Bay of Flags), the city boasts a setting as ridiculously picturesque as its idyllic white-sand beaches and red-tiled houses of white adobe. The city has mutated from a sleepy seaside village into an international resort so quickly that it is fashionable to deride its spoilt charms, but it's almost impossible to dislike its lively bars, romantic restaurants, mushrooming gallery scene and bustling marine life. There are dolphins in the bay year-round, and humpback whales between November and March. Locals insist that if you stand on the seafront in April, you can see giant manta rays leaping into the air during their mating rituals.
Guadalajara: Many of the traditions considered characteristically 'Mexican' were created in Guadalajara, the country's second-largest city. Guadalajara can be held responsible for the mixed blessings of mariachi music, tequila, the Mexican Hat Dance, broad-brimmed sombrero hats and the Mexican rodeo. Part of Guadalajara's huge appeal is that it has many of the attractions of Mexico City - a vibrant culture, fine museums and galleries, handsome historic buildings, exciting nightlife and good places to stay and eat - but few of the capital's problems. It's a bright, modern, well-organized and unpolluted place, with enough attractions to please even the pickiest visitor. Highlights include the giant, twin-towered cathedral and the lovely plazas that surround it, the Instituto Cultural de Cabañas and its frescoes by José Clemente Orozco, the Plaza de los Mariachis if you're a masochist, and the twin handicraft-filled suburbs of Tlaquepaque and Tonalá.
Acapulco: White-sand beaches, high-rise hotels, nightlife that glitters and the divers of La Quebrada - these are the postcard images of Acapulco, the granddaddy of the Pacific coast's resort cities, where tourism has been the number-one industry since the 1950s. Head inland and the city's schizophrenic side makes an appearance - trash-filled streets, crowded sidewalks, congested traffic, down-at-heel shops and dowdy apartment buildings. Most visitors are happy to ignore the city's daily grind, choosing to laze on the city's numerous beaches, shop at the many plazas or dine at all those restaurants with trilingual menus. The famous cliff divers of La Quebrada have been amazing visitors since the 1930s, gracefully plummeting from the seemingly suicidal height of 45m (148ft) into a narrow crevasse that appears to contain only enough water to wash their feet. Not surprisingly, the divers pray at a small shrine before flinging themselves into the void. You can catch a great view of the divers from the restaurant of the Plaza Las Glorias Hotel. For less crowded beaches, try the Pie de la Cuesta, 8km (5mi) northwest of the city center, which is a good alternative to the glitz of the city but can sometimes have dangerous waves. There are great views of Acapulco's bay on the road to Puerto Marqués, 18km (11mi) southeast of the city. Just south of the Peninsula de las Playas is the so-called underwater shrine, a submerged bronze statue of the Virgin of Guadalupe.
Oaxaca: This Spanish-built city of narrow streets has a special atmosphere - at once relaxed and energetic, remote and cosmopolitan. Situated in the rugged southern state of the same name, Oaxaca has a large indigenous population, flourishing markets and some superb colonial architecture. Not least of Oaxaca's attractions are the abundant local handicrafts and the conviviality of the local cafes. Center of town is the shady, arcaded zócalo and the major landmark is the Iglesia de Santo Domingo, the most splendid of Oaxaca's many churches. The city also has a clutch of worthy museums, exploring Oaxacan culture and the lives of famous former inhabitants such as Benito Juárez. There are many fascinating places within day-trip distance of the city, notably the Zapotec ruins at Monte Albán, Mitla, Yagul and Cuilapan.

Yucatan Peninsula: Cross the Río Usumacinta into Yucatán, and you enter the realm of the Maya. Heirs to a glorious and often violent history, the Maya live today where their ancestors lived a millennium ago. Yucatán has surprising diversity: archaeological sites galore, colonial cities, tropical forests, peerless snorkeling, seaside resorts, quiet coastlines and raucous nightlife. The region's famous Mayan sites are particularly impressive at Uxmal and Chichén Itzá, near the Yucatán state capital, the attractive colonial city of Mérida (home of the hammock). The coastal state of Quintana Roo attracts plane-loads of sun-loving tourists to its islands and white-sand Caribbean beaches, particularly Cozumel, Playa del Carmen and, party central, Cancún. The stunning cliff-top ruins at Tulum, overlooking a palm-fringed beach and turquoise sea, attract their fair share of visitors too.
Puebla: The Spanish colonial flavor is particularly piquant in the old city of Puebla, 125km (77mi) east of Mexico City. Despite the ravages of the 1999 earthquake, Puebla is home to more than 70 churches and a thousand other colonial buildings, many of them adorned with the city's famous hand-painted tiles (azulejos). The town's towering cathedral is considered one of the country's best proportioned, blending severe Herreresque-Renaissance and early baroque styles. Local indigenous influences can be seen in the prolific stucco decoration of the Capilla del Rosario in the Templo de Santo Domingo - a sumptuous baroque proliferation of gilded plaster and carved stone with angels and cherubim popping out from behind every leaf. Puebla is also known for its regional cuisine, celebrated and imitated throughout Mexico; try the mole poblano, spicy chocolate sauce usually served over turkey or chicken. Not too far from Puebla are two other colonial gems. Some 85km (53mi) south of the capital is Cuernavaca, a retreat for Mexico City's wealthy and fashionable citizens since colonial times, thanks to its spring-like climate. Much of the city's elegance is hidden behind high walls and courtyards, but a number of residences have been transformed into galleries, hotels and restaurants. Those on a tight budget may find Cuernavaca a bit of a squeeze, but the little luxuries go down a treat with visitors who stay on to enroll in a Spanish-language course. The old silver-mining town of Taxco, 180km (112mi) southwest of Mexico City, is one of the most picturesque and pleasant places in Mexico. The gorgeous colonial antique clings to a steep hillside, its maze of narrow cobbled streets spooling into leafy plazas lined with engagingly distressed buildings. The entire town has been declared a national historic monument.
Álamos: This tranquil little town in the foothills of the Sierra Madre Occidental has been declared a national historic monument - for very good reasons. Back in the 18th century Álamos was a silver boom town of gorgeous mansions and haciendas, but by the 1920s it had declined into a forgotten backwater. An injection of expat norteamericano funds gave the dilapidated ghost town a much-needed facelift, and today Álamos' Spanish colonial buildings have been beautifully restored. Much of the architecture has a Moorish influence, thanks to the Andalusian artisans who originally built the city. Álamos' narrow cobblestone streets are lined with colonial mansions, concealing courtyards lush with bougainvillea. You can get to see inside several of these old mansions too, as they've been converted into hotels and restaurants. The whole town has a distinctly peaceful, timeless feel. Sunday evenings in particular are reserved for that traditional pastime of strolling and people-watching on the Plaza de Armas. Álamos is on the border of two very different ecosystems of desert and jungle. Hordes of nature-lovers swoop on the place because of its 450 species of birds and animals (including some endangered and endemic species), and more than 1000 species of plants. Horseback riding, hiking, swimming and dining in opulent colonial mansions are also on the Álamos menu. The obvious souvenir to buy while in town is a bag of brincadores, or Mexican jumping beans, as Álamos is the jumping bean capital of the world. Actually they're seed pods, not beans, and they jump because they're inhabited by moth larvae.
Pátzcuaro: Pátzcuaro boasts some particularly stately colonial architecture, but the town's major claim to fame is its candlelit Day of the Dead celebrations on November 2. The local Purépechas' celebrations have an especially magical quality and notably pre-Hispanic undertones. Graveyards are lit with candles, decorated with altars of marigolds and filled with traditional dancers and musicians. Pátzcuaro has a handsome core of lovely colonial buildings, churches and fine plazas, its streets climbing steeply to Our Lady of Good Health in the east of town. Plaza Vasco de Quiroga, the city's beautifully proportioned main plaza, is one of the loveliest in Mexico, flanked by trees and arcaded 17th-century mansions. Several mansions are devoted to the display and sale of the region's notable handicrafts, including copperware, straw goods, musical instruments, gold-leaf lacquer ware, hand-painted ceramics and lace. The town's market is also a good place to pick up local crafts and textiles. Pátzcuaro is a five-hour bus trip west of Mexico City in the western central highlands. It lies 3.5km (2mi) from the southeast shore of neighboring Lago de Pátzcuaro, which is ringed by traditional artisans' villages and has four island communities. Isla Janitzio in particular comes alive (so to speak) with its famous Día de los Muertos parade of decorated canoes.
San Cristóbal de las casas: This handsome colonial town in the pine-clad Valle de Jovel is surrounded by the classic Mayan villages of the Chiapas highlands. It's a delightful place and a magnet for travelers who want to learn a little Spanish, absorb the bohemian atmosphere and enjoy the lively bar and music scene. Since 1994 San Cristóbal has been caught up in the Zapatista struggles. Regional crafts play a large part in the town's tourism, and dolls depicting the black balaclava'd Zapatista leader Subcomandante Marcos are as typical a souvenir here as the region's renowned Tzotzil textiles. San Cristóbal has a fine plaza and a swag of churches, the most beautiful of which is Santo Domingo with its pink baroque facade and golden interior. Horseback riding is popular in the surrounding hills, and other pursuits include discovering traditional Maya medicine, stocking up at the local weavers' cooperative, sampling delicious organic coffee at the Coopcafé, visiting the nearby indigenous villages and drinking in the amazingly clear highland air.
Mexico is enjoyable year-round, but October to May is generally the most pleasant time to visit. The May-September period can be hot and humid, particularly in the south, and inland temperatures can approach freezing during December-February. Facilities are often heavily booked during Semana Santa (the week before Easter) and Christmas/New Year, the peak domestic travel periods.
Mexico's climate has something for everyone: it's hot and humid along the coastal plains, and drier and more temperate at higher elevations inland (Guadalajara or Mexico City, for example). Try to avoid Mexico's southern coast between July and September - the resorts are decidedly soggy and jam-packed, as July-August is also the peak holiday months for foreign visitors.
Currency: Peso
Meals
Budget: US$2-8
Mid-range: US$8-20
Top-end: US$20 and upwards
Lodging
Budget: US$10-20
Mid-range: US$20-70
Top-end: US$70 and upwards
Baja California, Monterrey and the Yucatán Peninsula's Caribbean coast are pricey, but elsewhere you can expect to get away with spending around US$20-35 a day, particularly in rural areas. Throw in a few luxuries like traveling in reasonable comfort, staying at better mid-range places and eating at more expensive restaurants, and you'll need more like US$60. Stay at luxurious hotels and hire a car occasionally, and the sky's the limit. It's best to bring US-dollar denomination traveler's checks and some US dollars in cash. You can exchange money in banks or in casas de cambio. Note that bank exchange facilities are often only open between 9am and 3 or 4pm. Major credit cards are accepted by airlines, car rental companies and more expensive hotels and restaurants - but take extra care when using them, as credit-card fraud and theft is rife in Mexico.
In heavily touristed areas such as Acapulco, Cancún and Cozumel, you can often spend US dollars as easily as pesos at hotels and restaurants (although the exchange rate will probably be awful). Note that the dollar sign is used to refer to pesos in Mexico; prices in US dollars are usually marked US$ or USD. Mexico has a 15% value-added tax (IVA) which by law must be included in quoted prices. Sometimes - usually in top-end hotels - prices are quoted without this tax. Tipping in restaurants in resort areas is equivalent to US levels - somewhere between 15% and 20%. Outside these areas, a tip of 10% is sufficient at mid-range restaurants; in general, staff at smaller, cheaper places do not expect a tip. Expect to bargain at markets and with drivers of unmetered taxis. Treat haggling as a form of social discourse rather than a matter of life and death.
It's thought that the first people to inhabit Mexico arrived 20,000 years before Columbus. Their descendants built a succession of highly developed civilizations that flourished from 1200 BC to 1521 AD. The first ancestral civilization to arise was that of the Olmecs (1200-600 BC), in the humid lowlands of southern Veracruz and Tabasco. By 300 BC they were joined by the Zapotecs of Oaxaca, and the temple center of Izapa (200 BC to 200 AD). By 250 AD the Maya were building stepped temple pyramids in the Yucatán Peninsula. Central Mexico's first great civilization flourished at Teotihuacán between 250 and 600 AD, to be followed by the Toltecs at Xochicalco and Tula. The Aztecs were successors to this string of empires, settling at Tenochtitlán in the early 14th century. Almost 3000 years of civilization was shattered in just two short years, following the landing by Hernán Cortés near modern-day Veracruz on April 21, 1519. Primary sources suggest that the Aztecs were initially accommodating because, according to their calendar, the year 1519 promised the god Quetzalcóatl's return from the east.
The Spaniards met their first allies in towns that resented Aztec domination. With 6000 local recruits, they approached the Aztecs' island capital of Tenochtitlán - a city bigger than any in Spain. King Moctezuma II invited the party into his palace and the Spaniards promptly took him hostage. By August 13, 1521, Aztec resistance had ended. The position of the conquered peoples deteriorated rapidly, not only because of harsh treatment at the hands of the colonists but also due to introduced diseases. The indigenous population fell from an estimated 25 million at the time of conquest to one million by 1605. From the 16th to 19th centuries, a sort of apartheid system existed in Mexico. Spanish-born colonists were a minuscule part of the population but were considered nobility in New Spain (as Mexico was then called), however humble their prior status in Spain. By the 18th century, criollos (people born of Spanish parents in New Spain) had acquired fortunes in mining, commerce, ranching and agriculture, and were seeking political power commensurate with their wealth. Below the criollos were the mestizos, of mixed Spanish and indigenous or African slave ancestry, and at the bottom of the pile were the remaining indigenous people and African slaves. The catalyst for rebellion came in 1808 when Napoleon Bonaparte occupied most of Spain - direct Spanish control over New Spain suddenly ceased and rivalry between Spanish-born colonists and criollos intensified. On September 16, 1810, Miguel Hidalgo y Costilla, a criollo parish priest, issued his call to rebellion, the Grito de Dolores. In 1821 Spain agreed to Mexican independence.
Twenty-two years of chronic instability followed independence: the presidency changed hands 36 times. In 1845, the US congress voted to annex Texas, leading to the Mexican-American War in which US troops captured Mexico City. Under the Treaty of Guadalupe Hidalgo (1848), Mexico ceded Texas, California, Utah, Colorado and most of New Mexico and Arizona to the USA. The Maya rose up against their criollo overlords in the late 1840s and almost succeeded in driving them off the Yucatán Peninsula. By 1862, Mexico was heavily in debt to Britain, France and Spain, who sent a joint force to Mexico to collect their debts. France decided to go one step further and colonize Mexico, sparking yet another war. In 1864, France invited the Austrian archduke, Maximilian of Hapsburg, to become emperor of Mexico but his reign was bloodily ended by forces loyal to the country's former president, Benito Juárez, a Zapotec from Oaxaca. With the slogan 'order and progress,' dictator Porfirio Díaz (ruled 1878-1911) piloted Mexico into the industrial age and steered clear of the warfare that had plagued the country for over 60 years. But peace came at a cost: political opposition, free elections and a free press were banned, and control was maintained by a ruthless army.

Widespread dissatisfaction with Díaz's rule led to strikes that prefigured the Mexican Revolution. The revolution (1910-20) was a 10-year period of shifting allegiances between a spectrum of leaders, in which successive attempts to create stable governments were wrecked by new skirmishes. The basic ideological rift was between liberal reformers and more radical leaders, such as Emiliano Zapata, who were fighting for the transfer of hacienda land to the peasants. The 10 years of violent civil war cost an estimated 1.5 to two million lives - roughly one in eight Mexicans. After the revolution, political will was focused on rebuilding the national infrastructure. Precursors of today's Party of the Institutionalized Revolution (PRI) took power in 1934, introducing a program of reform and land redistribution.
Civil unrest next appeared in 1966, when university students in Mexico City expressed their outrage with the conservative Díaz Ordaz administration. Discontent with single-party rule, restricted freedom of speech and excessive government spending came to a head in 1968 in the run-up to the Mexico City Olympic Games, and protesters were massacred by armed troops. The oil boom of the late 1970s increased Mexico's oil revenues and financed industrial and agricultural investments, but the oil glut in the mid 1980s deflated petroleum prices and led to Mexico's worst recession in decades. The economic downturn also saw an increase in organized political dissent on both the left and right. The massive earthquake of September 1985 caused more than US$4 billion in damage. At least 10,000 people died, hundreds of buildings in Mexico City were destroyed and thousands of people were made homeless. President Carlos Salinas de Gortari began his term in 1988 after very controversial elections. He gained popular support by renegotiating Mexico's crippling national debt and bringing rising inflation under control. A sweeping privatization program and a burgeoning international finance market led to Mexico being heralded in the international press as an exemplar of free-market economics.
The apex of Salinas' economic reform was the North American Free Trade Agreement (NAFTA), effective January 1, 1994. Fears that NAFTA would increase the marginalization of indigenous Mexicans led to the Zapatista uprising in the southernmost state of Chiapas. The day NAFTA took effect, a huge army of unarmed peasants calling themselves the Ejército Zapatista de Liberación Nacional (EZLN) shocked Mexico by taking over the state capital of San Cristóbal de Las Casas. Their demands focused on improved social and economic justice. The EZLN were driven out of town within a few days, but the uprising struck a chord among all those who felt that the gap betweeen rich and poor was widening under Salinas and the NAFTA agreement. Today, the Zapatista movement (and the US government-sponsored, low-intensity warfare campaign) continues, and the rebels' leader, a balaclava-clad figure known only as Subcomandante Marcos, is now a national folk hero. In March 1994, Luis Donaldo Colósio, Salinas' chosen successor, was assassinated. His replacement, 43-year-old Ernesto Zedillo, was elected with 50% of the vote. Within days of President Zedillo's taking office, Mexico's currency, the peso, suddenly collapsed, bringing on a rapid and deep economic recession. Among other things, it led to a huge increase in crime, intensified discontent with the PRI and caused large-scale Mexican immigration to the US. It's estimated that by 1997 more than 2.5 million Mexicans a year were entering the US illegally. Zedillo's policies pulled Mexico gradually out of recession. Despite a hiccup caused by international economic factors in 1998, by the end of his term in 2000, Mexicans' purchasing power was again approaching 1994 levels.
In the freest and fairest national election since the Mexican Revolution, National Action Party (PAN) presidential candidate and former Coca-Cola executive Vicente Fox beat Zedillo's hand-picked successor, PRI candidate Francisco Labastida. The July 2, 2000, elections ended the PRI's 71-year reign, but it remains the chief opposition party. President Fox has sought to emphasize Mexico's role as a world player, and has strongly supported the US since the events of 9/11/01; security has been tightened on the nothern border. Meanwhile, rumours of government corruption are once again on the increase, the activities of the country's notorious drug cartels continue to make headlines and the soaring crime rate is tainting Mexico's much-vaunted holiday image.
Mexicans have had a talent for art and color since pre-Hispanic times. Today, Mexico is covered with murals and littered with galleries of contemporary and historic art, which are a highlight of the country for many visitors. Mexican creativity is also expressed through the country's vibrant folk-art tradition. Notable examples of pre-Hispanic art include the Olmecs' monumental stone heads, the early Paradise of Tláloc murals at Teotihuacán and the Mayan murals at Bonampak in Chiapas. The art of the colonial period was largely religious and Spanish in tone. The influence of indigenous artisans can be seen in the elaborate altarpieces and sculpted walls and ceilings that decorate the country's many churches. The arts were regarded as an important part of the national revival after the revolution. Mexico's top artists, such as Diego Rivera, David Alfaro Siqueiros and José Clemente Orozco, were commissioned to decorate important public buildings with large, vivid murals on social and historical themes. Frida Kahlo, who married Rivera, painted anguished self-portraits and surreal images that became hugely popular in the 1980s, decades after her death. These days Mexico City and Oaxaca have thriving contemporary arts scenes, with artists like Luis Zárate and Rodolfo Morales leading the charge.
Mexico's ancient civilizations produced some of the most spectacular, eye-pleasing architecture ever built. Sites such as Teotihuacán, Monte Albán, Chichén Itzá and Uxmal are fairly intact examples of pre-Hispanic cities, with their ceremonial centers, pyramids, temples and ball courts. One of the first preoccupations of the Spanish was to replace these pagan structures with Christian churches. Plazas were now the focal point of each settlement, and the churches that replaced the temples reflected European styles such as Gothic, flamboyant Baroque, plateresque, Churrigueresque and neoclassical. Post-revolutionary Mexico saw a return to pre-Hispanic roots, known as Toltecism, exhibiting colorful murals and stocky Aztec architectural forms. Mexico is increasingly gaining a name for its ground-breaking modern architecture, for example the 1990s glass arrowhead of the Centro Bursátil. Renowned Mexican writers include Carlos Fuentes, Jorge Ibargüengoitia and the 1990 Nobel Prize-winner Octavio Paz. Juan Rulfo is generally regarded as the country's supreme novelist. His novel Pedro Páramo has been described as 'Wuthering Heights set in Mexico and written by Kafka.' Laura Esquivel achieved huge success with Like Water for Chocolate (1989).
Spanish is Mexico's predominant language, but Mexican Spanish differs from Castilian Spanish, the literary and official language of Spain, in two respects: in Mexico, the Castilian lisp has more or less disappeared, and numerous indigenous words have been adopted. Around 50 indigenous languages are spoken by about 7 million people in Mexico; 15% of these do not speak Spanish. Although Mexican governments since the revolution have been unsupportive of religion, 90% of the population professes to believe in Catholicism. While most of the indigenous people are Christian, their Christianity is usually fused with more ancient beliefs. Whole hierarchies of 'pagan' gods sometimes coexist with the Christian Trinity and saints. Since 1531, the most binding symbol of the Church has been the dark-skinned Virgin of Guadalupe, who is regarded as a link between Catholic and non-Catholic indigenous worlds. Mexican cuisine is centered around three national staples: tortillas, beans and chili peppers. Tortillas are thin round patties of pressed corn or wheat-flour dough cooked on griddles. Beans (frijoles) are eaten boiled, fried or refried, in soups, on tortillas or with just about anything. Apart from an astonishing array of freshly squeezed fruit juices (jugos), which are readily available from street stalls, Mexico is also famous for its alcoholic beverages - mezcal and tequila in particular. Pulque is a mildly alcoholic drink derived directly from the sap of the maguey.