It's the multiple layers of great civilizations which makes Peru so fascinating. You can wander around colonial cities which have preserved the legacy of the Spanish conquistadors, visit the ancient Incan capital of Cuzco, explore the lost city of Machu Picchu and ponder the enigma of the Nazca Lines (answers on a postcard please). You don't have to be in Peru too long to realize that the 'New World' had a rich and complex cultural life thousands of years before Pizarro turned up wearing funny clothing. All of this exists in a country with some of the most spectacular and varied scenery in South America. The Peruvian Andes are arguably the most beautiful on the continent and the mountains are home to millions of highland Indians who still speak the ancient tongue of Quechua and maintain a traditional way of life. The verdant Amazon Basin, which occupies half of Peru, is one of the world's top 10 biodiversity 'hot spots' - a species-rich area of tropical rain forest that will make your head spin when you start to learn about its ecology. And the coastal deserts, with their huge rolling dunes, farmland oases and fishing villages, are underappreciated by travelers but offer the opportunity to get off the Gringo Trail in a big way. But you don't have to be a zoologist, an anthropologist or a mountain climber to enjoy Peru, all you need is a keen eye, a love of landscape, an interest in history and a very good money belt.
More Information
Where to go
When to go
Money & Costs
History
Culture
Lima, Peru's capital, is overcrowded, polluted, noisy and often has wretched weather. Nevertheless, the inhabitants are friendly and hospitable, opportunities for dining and nightlife are ample and the city has a great selection of museums. A project is now underway to restore the city's colonial center, so Lima may be a lot lovelier in the near future. Attractions include the Museo de Arte, which exhibits colonial furniture and pre-Columbian artifacts as well as 400 years of Peruvian art, and the Museo Nacional de Antropología y Arquelogía, noted for its excellent exhibits of prehistoric Peru. Churches such as San Francisco (famous for its catacombs) and Santo Domingo (circa 1540) provide a welcome respite from the outside clamor. Lima's many markets, including Polvos Azules, overflow with consumer goods and handicrafts. There are also plazas, lovely colonial buildings and a zoo. Inexpensive accommodation can be found in the city center. The suburb of Barranco has a number of cheap restaurants and live music venues and is very popular with backpackers. The suburb of Miraflores has the city's best stores, restaurants and nightspots.
South Coast: The Panamerican highway hugs the coast and passes through many areas of interest south of Lima, including Pisco, an important fishing port (best known for its white grape brandy), used by travelers as a base to see the wildlife of the nearby Islas Ballestas and Península de Paracas. The area is of much historical and archaeological interest, with burial sites of the Paracas culture a major lure. Further south is the town of Nazca, known for its colorful and elaborate pottery and the world-famous Nazca Lines - huge geometric designs, mostly of animals and birds - which are thought to have been built between 900 BC and 600 AD. The designs are only visible from the air but there are numerous flights over the area for around US$50.

Nicknamed the 'white city', Arequipa is surrounded by spectacular mountains, including the volcano El Misti. A feature of the city is its many beautiful buildings made of a light-colored volcanic rock called sillar. The Convento de Santa Catalina, perhaps the most fascinating colonial religious building in the country, was, until recently, home to almost 450 nuns. Many of the city's beautiful colonial houses, such as Casa Ricketts, are now used as art galleries or museums. Accommodation and food is cheap and often provided in lovely locations. The Colca Canyon, arguably the world's deepest canyon, is a popular excursion from Arequipa. Lake Titicaca, at 3820m (12,530ft), is the highest navigable lake in the world. At over 170km (105mi) long, it is also the largest lake in South America. Its altitude means the air is unusually clear and the azure waters particularly striking. Interesting boat trips can be made from Puno, the major port on the lake. The area is also known for its folk dances and huge herds of alpacas and llamas.
Cuzco: The archaeological capital of the Americas and the oldest continuously inhabited city on the continent, Cuzco is now an important link in the South American travel network. Its legacy as the hub of the Inca empire is readily apparent: Most of the city streets are lined with Inca-built stone walls and crowded with Quecha-speaking descendants of the Incas. The city has magnificent repositories of colonial art such as the catedral (begun in 1559) and La Merced Church. There is also the Coricancha ruins, east of the city center, which were formerly covered with gold (the stonework is all that remains) and the Museo de Arqueológia, the interior of which is filled with metal and gold work, jewelery, pottery, textiles and mummies. Four other ruins - Sacsayhuamán, Qenko, Puca Pucara and Tambo Machay - are nearby. West of Cuzco is Machu Picchu, the best-known and most spectacular site on the continent. Despite the relentless stampede of tourists (especially during the dry season months, June to September), this 'Lost City of the Incas' still retains an air of grandeur and mystery and is a 'must see' for any visitor to Perú.
Iquitos: Iquitos (pop 400,000), Peru's largest jungle city and the Amazon Basin's largest settlement without road links, is connected to the outside world only by air and river. Founded in the 1750s by Jesuits, it would later become an oil and rubber boomtown. Today the tourist economy is increasingly the area's main focus. Iquitos' main attraction is as a civilized gateway to the Amazon and jumping-off point for jungle excursions.
Uaraz Area: Huraz is the most important climbing, trekking and backpacking center in Peru. The city of Huaraz has been demolished several times by massive earthquakes and is therefore not particularly atractive. The surrounding mountains, however, are exceptionally beautiful, and many travelers come to Peru specifically to visit the Huaraz area. The Andes around Huaraz offer a wide range of attractions, the most evident of which are the many permanently glaciated peaks jutting up to 6000m. The climbing and hiking season runs May to September. There are also glacial lakes and hot springs and Inca and pre-Inca archeological sites, most notably Chavín de Huántar. Parque Nacional Huascarán, established in 1975, protects a large chunk of the Cordillera Blanca. The city of Huaraz is a great base camp, with a multitude of hotels and guide services to choose from.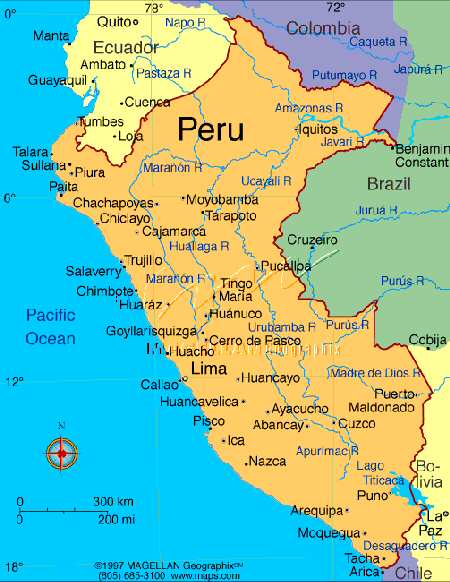 Peru's peak tourist season is from June to August, which is the dry season in the highlands, and this is the best time to go if you're interested in hiking. Travelers do visit the highlands year-round, though the wettest months, January to April, make trekking a muddy proposition. Many of the major fiestas occur in the wettest months and continue undiminished in spite of heavy rain.
On the coast, Peruvians visit the beaches during the sunny months from late December through March, although few beaches are particularly enticing. The rest of the year, the coast is clothed in mist. In the eastern rainforests, it naturally rains a lot. The wettest months are December through April, though travelers visit year-round since it rarely rains for more than a few hours and there's still plenty of sunshine to enjoy.
Currency: Nuevo (New) Sol
Meals
Budget: US$2-5
Mid-range: US$5-10
Top-end: US$10 and upwards
Lodging
Budget: US$5-10
Mid-range: US$10-15
Top-end: US$15 and upwards
Costs in Peru are lower, on average, than those in developed countries, but higher than those in many neighboring countries. Lima and Cuzco are the most expensive places in the country. If you're on a tight budget, you can scrape by on around US$15-20 per day, but if you want to stay in modest hotels and eat out at restaurants, you'll have a better time on around US$50 a day. Prices for luxury accommodations run up to US$200 at popular destinations like Machu Picchu. The easiest currency to exchange is US dollars. Other currencies are only exchangeable in major cities and at a high commission. Money can be changed in banks, casas de cambio, first-class hotels or with street changers. Casas de cambio are usually the easiest places to change money. Street changers, who hang out near banks, never offer better rates than the best bank rate and have been known to cheat travelers so are best avoided.
Rates vary from place to place but not significantly, unless you try to change money at a hotel which charges high commission. Travelers' checks are changed at a slightly lower rate than cash. Visa is the most widely accepted credit card, but credit cards attract an 8% commission unless you are using it for a cash withdrawal (in Peruvian currency) from a bank. ATMs (Visa and Plus system are most widely recognized) are now the best way to extract money in Peru. A combination of taxes and service charges are added to bills in the best hotels and restaurants and can total as much as 28%. The cheaper hotels and restaurants don't add taxes. Tipping is not expected in budget restaurants. A tip of 10-15% is fine in upmarket restaurants if a service charge has not already been added to the bill. Taxi drivers are not tipped - bargain hard beforehand and stick to your price. Local guides should be tipped US$3-5 per day. Bargaining is a way of life in markets.
The first inhabitants of Peru were nomadic hunter-gatherers who lived in caves in Peru's coastal regions. The oldest site, Pikimachay cave, dates from 12,000 BC. Crops such as cotton, beans, squash and pepper chillis were planted around 4000 BC; later, advanced cultures such as the Chavín introduced weaving, agriculture and religion to the country. Around 300 BC, the Chavín inexplicably disappeared, but over the centuries several other cultures - including the Salinar, Nazca, Paracas Necropolis and Wari (Huari) - became locally important. By the early 15th century, the Inca empire had control of much of the area, even extending its influence into Colombia and Chile. Between 1526-28, the Spanish conquistador Francisco Pizarro explored Peru's coastal regions and, drawn by the riches of the Inca empire, returned to Spain to raise money and recruit men for another expedition to the country. Return he did, marching into Cajamarca, in northern Peru, before capturing, ransoming and executing the Inca emperor Atahualpa in 1533. Pizarro subsequently founded the city of Lima in 1535 but was assassinated six years later.
The rebellion of the last Inca leader, Manco Inca, ended ingloriously with his beheading in 1572. The next 200 years proved peaceful, with Lima becoming the major political, social and commercial center of the Andean nations. However, the exploitation of Indians by their colonial masters led to an uprising in 1780 under the self-styled Inca Tupac Amaru II. The rebellion was shortlived and most of the leaders were rounded up and executed. Peru continued to remain loyal to Spain until 1824, when the country was liberated by two 'outsiders': the Venezuelan Simón Bolívar and the Argentinian José de San Martín. In 1866, Peru won a brief war with Spain but was humiliated by Chile in the War of the Pacific (1879-83), which resulted in the loss of lucrative nitrate fields in the northern Atacama Desert. Peru also went to war with Ecuador over a border dispute in 1941. The 1942 treaty of Rio de Janeiro ceded the area north of the Río Marañón to Peru but the decision was fiercely contested by Ecuador.

Cuban-inspired guerrilla uprisings in 1965 led by the National Liberation Army were unsuccessful, but a series of nationwide strikes coupled with a violent insurgency by the Maoist Shining Path (Sendero Luminoso) guerrillas caused political instability in the 1980s. Another guerilla group - the Tupac Amaru Revolutionary Movement (MRTA) - also gained in strength during this time. However, the 1990 presidential election victory of Alberto Fujimori (erroneously known as El Chino because of his Japanese parentage) over Peruvian novelist Mario Vargas Llosa, and the capture in 1992 of inspirational MRTA and Sendero Luminoso leaders buoyed hopes for a sustained period of peace. The main threat to domestic stability remains unemployment and poverty, despite Peru's fast-growing economy. Fujimori was re-elected in April 1995, comprehensively beating former UN secretary general Javier Perez de Cuellar. A treaty was signed with Ecuador in 1998, peacefully resolving a contentious 57-year-old border dispute, paving the way for increased foreign investment in both countries.
In November 1999, Peru and Chile settled their last long-standing territorial dispute over the important trade bottleneck of Arica. The world watched the April 2000 elections intently as Alejandro Toledo, an Andean Indian from a poor family who became a World Bank economist, gave two-time President Alberto Fujimori the election run of his life. One week before the country headed to the polls for a second time, Toledo filed a formal letter with the National Election Board to further call attention to election corruption, a move that bought a response from the Organization of American States (OAS). It announced that the National Election Office needed more time to correct 'deficiencies' in the voting process. Toledo instructed his followers to write 'No To Fraud' across their ballots and ultimately withdrew from the runoff. Fujimori emerged victorious in that controversial and rigged election. However, he resigned from his third presidential term in November and fled to Japan following charges of human rights violations and corruption that were made against his intelligence adviser, Vladimiro Montesinos.
Art prior to Spanish colonization concentrated almost entirely upon the production of fine pottery, metalwork, stonecraft and textiles. The Spanish subsequently introduced their version of urban planning, with cities laid out in checkerboard fashion, and constructed mansions, churches and monasteries which slavishly mimicked Spanish renaissance or the rather phlegmatic Spanish early baroque. Over time, these European styles increasingly showed signs of a native Indian influence, leading to a style known as mestizo. (The best examples of mestizo architecture can be found in the churches around Puno and Arequipa.) Painting too mimicked European influences but as local artists grew more confident, a new and distinctive Cuzco style developed, in which artists turned their attention away from the visible world, and concentrated instead on fairytale and fable. The influence of these works on artist Paul Gauguin, who spent his childhood in Lima, is noticeable.
Peruvian music is almost entirely folk music, while its literature encompasses everything from independence-inspired polemic to the anarchic individualism of its many poets and the boyhood reveries of the internationally renowned author Mario Vargas Llosa. The main religion is Roman Catholicism, though the Indians, while outwardly Catholic, often blend Catholicism with traditional beliefs. Spanish is the main language. In the highlands, most Indians are bilingual, but speak Quechua as their mother tongue. There are about 70 other languages, and in remote parts of the Amazon, Spanish is rarely spoken. English is understood in major hotels and airline offices. Typical Peruvian dishes are tasty and vary regionally. Seafood is, understandably, best on the coast, while the Inca delicacy - roast guinea pig - can be sampled in the highlands. Other dishes include: lomo saltado (chopped steak fried with onions); cebiche de corvina (white sea bass marinated in lemon, chilli and onions, often served cold with a boiled potato or yam); and sopa a la criolla (a lightly spiced noodle soup with beef, egg, milk and vegetables).