The US claims to be the greatest success story of the modern world - a nation fashioned from an incredibly disparate population who, with little in common apart from a desire to choose their own paths to wealth or heaven, rallied around the ennobling ideals of the Constitution and the Declaration of Independence to forge the richest, most inventive and most powerful country on earth. Despite polemicists who justly cite the destruction of Native American cultures, racism and imperialism at the top of a long list of wrongdoings, half the world remains in love with the idea of America. This is, after all, the country that introduced the world to the right to the pursuit of happiness, free speech, electric light, airplanes, assembly-line automobiles, the space shuttle, computers, blues, jazz, rock & roll and movies that climax at the high-school prom.
On a short trip, it can be hard work dismantling your preconceptions. So much of the country has been filmed, photographed, painted and written about that you need to peel back layers of representation to stop it from looking like a stage setting. This worldwide representation can make the country seem strangely familiar when you first encounter novelties like 24-hour shopping, bottomless cups of coffee, 'Have a nice day,' drive-thru banks, TV evangelists, cheap gasoline and newspapers tossed onto lawns. But you'd be foolish to read too much into this surface familiarity, since you only have to watch Oprah for half an hour to realize that the rituals and currents of American life are as complex, seductive and bewildering as the most alien of cultures. Come prepared to explore the USA's unique brand of 'foreignness' rather than stay in the comfort zone of the familiar. You'll discover several of the world's most exciting cities, some truly mind-blowing landscapes, a strong sense of regionalism, a trenchant mythology, more history than the country gives itself credit for and, arguably, some of the most approachable natives in the world.
More Information
Where to go
When to go
Money & Costs
History
Culture
Americans love parades and pageantry, so there's no shortage of events and festivities. Half the country comes to a standstill during the Super Bowl, the roving American-football finale held in late January. New Orleans' Mardi Gras, in February or March, is a rowdy, touristy, bacchanalian knees-up. St Patrick's Day, in mid-March is celebrated with parades and pitchers of green beer; it's especially fervent in New York and Chicago. The Kentucky Derby is raced in Louisville in May. Independence Day (the Fourth of July) is celebrated with lots of flag-waving patriotism, fireworks and the odd beverage. Inveterate travelers should drop into the National Hobo Convention in Britt, Iowa, in August. Halloween (October 31st) is a big deal for kids, who go trick-or-treating around their neighborhood in even worse clothes than they normally wear; in Greenwich Village, West Hollywood and San Francisco the holiday is subversively celebrated with glam parades. Americans go home to mom and pop for a big feed on Thanksgiving, the last Thursday of November.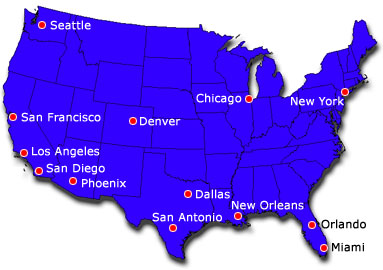 The US is most popular with travelers during the summer, but this is when American families pack everything up and head out to visit Aunt Tilly. To avoid mobs (especially throughout the national-park system), it's better to go during autumn or early spring. Autumn is an especially good time to visit New England and the upper Great Lakes because fall colors are at their best. Most of the country east of the Rockies is hot and humid during summer, especially the south. The deserts between the Rockies and the Sierra Nevada are very hot and dry during the summer, especially in the southwest. California's southern coast is comfortable year-round, but if you want to experience the beach scene, it's best to visit between June and September.
Currency: US dollar (USD)
Meals
Budget: US$3-5
Mid-range: US$5-20
Top-end: US$20 and upward
Lodging
Budget: US$12-25
Mid-range: US$25-60
Top-end: US$60 and upward
Cash US dollars and 'convertible pesos' (equal to US greenbacks in Cuba; worth the same as Monopoly money elsewhere) remain the currency of choice at state-owned and licensed private hotels and restaurants; bus, train and airline offices; and most other tourist-oriented enterprises. Cuban pesos, or moneda nacional, can be used at local venta libre stores, cafeterias and street stands, cinemas, and many other businesses away from popular tourist destinations. Candeca, with kiosks throughout Cuba, changes currency at fair rates. Credit cards issued by US companies may be accepted, but be aware that the US could theoretically confiscate the entire transaction, leaving you high, dry and further in debt. A Visa or MasterCard (or two) issued by a non-US bank is the way to go. Traveler's checks denominated in US dollars, even those issued by US banks (at last report, the Banco Financiero Internacional was happily accepting American Express), can be cashed with a 2.5-4% commission. For a Caribbean destination, Cuba is still reasonably affordable, though not cheap. A double room in a medium-priced beachside resort runs US$50, US$100 all-inclusive. The same room in a state-run hotel costs around US$35, and in a private residence US$15-25. A meal in a state-run restaurant is US$10-15, while dinner for one at a paladar (privately owned restaurant) averages US$7. Taking the bus or train runs about US$4 for 100 miles (160km), while a rental car could cost as much as US$100 a day, more than in neighboring Florida. Cuban tourism workers rely on tips. People who deserve a US$1 tip include museum staff who give you a complete tour, hotel guards who watch your rental car all night, helpful bus drivers, attentive waitstaff or anyone in the service industry who goes beyond the call of duty.
Do not offer money to officials to obtain preferential treatment; governmental corruption is rare in Cuba and attempted bribery will only make things worse. Paladars may or may not add 10-20% onto your bill as a 'tax' or 'service charge.' If you suspect a scam, ask to keep the bill and see what happens. All private businesses are heavily taxed to discourage competition with state-run entities, and the added costs are, of course, passed on to you. Avoid jineteros (touts) who offer to lead you to a room or restaurant, unless you don't mind having an extra US$5 or so tacked onto your bill. Refrain from handing out money or anything else to children or beggars on the street. Cubans are not allowed to beg from tourists, and plainclothes police are on duty in most places where tourists and Cubans mix. It may be gratifying to hand out trinkets to people you view as needy, but these people could be questioned as soon as you disappear from sight, and you may be personally responsible for sending someone to prison.
The continent's first inhabitants walked into North America across what is now the Bering Strait from Asia. For the next 20,000 years these pioneering settlers were essentially left alone to develop distinct and dynamic cultures. In the modern US, their descendants include the Pueblo people in what is now New Mexico; Apache in Texas; Navajo in Arizona, Colorado and Utah; Hopi in Arizona; Crow in Montana; Cherokee in North Carolina; and Mohawk and Iroquois in New York State. The Norwegian explorer Leif Eriksson was the first European to reach North America, some 500 years before a disoriented Columbus accidentally discovered 'Indians' in Hispaniola (now the Dominican Republic and Haiti) in 1492. By the mid-1550s, much of the Americas had been poked and prodded by a parade of explorers from Spain, Portugal, England and France. The first colonies attracted immigrants looking to get rich quickly and return home, but they were soon followed by migrants whose primary goal was to colonize. The Spanish founded the first permanent European settlement in St Augustine, Florida, in 1565; the French moved in on Maine in 1602, and Jamestown, Virginia, became the first British settlement in 1607. The first Africans arrived as 'indentured laborers' with the Brits a year prior to English Puritan pilgrims' escape of religious persecution. The pilgrims founded a colony at Plymouth Rock, Massachusetts, in 1620 and signed the famous Mayflower Compact - a declaration of self-government that would later be echoed in the Declaration of Independence and the US Constitution.
British attempts to assert authority in its 13 North American colonies led to the French and Indian War (1757-63). The British were victorious but were left with a nasty war debt, which they tried to recoup by imposing new taxes. The rallying cry 'no taxation without representation' united the colonies, who ceremoniously dumped caffeinated cargo overboard during the Boston Tea Party. Besieged British general Cornwallis surrendered to American commander George Washington five years later at Yorktown, Virginia, in 1781. In the 19th century, America's mantra was 'Manifest Destiny.' A combination of land purchases, diplomacy and outright wars of conquest had by 1850 given the US roughly its present shape. In 1803, Napoleon dumped the entire Great Plains for a pittance, and Spain chipped in with Florida in 1819. The Battle of the Alamo during the 1835 Texan Revolution paved the way for Texan independence from Mexico, and the war with Mexico (1846-48) secured most of the southwest, including California.
The systematic annihilation of the buffalo hunted by the Plains Indians, encroachment on their lands, and treaties not worth the paper they were written on led to Native Americans being herded into reservations, deprived of both their livelihoods and their spiritual connection to their land. Nineteenth-century immigration drastically altered the cultural landscape as settlers of predominantly British stock were joined by Central Europeans and Chinese, many attracted by the 1849 gold rush in California. The South remained firmly committed to an agrarian life heavily reliant on African American slave labor. Tensions were on the rise when abolitionist Abraham Lincoln was elected president in 1860. The South seceded from the Union, and the Civil War, by far the bloodiest war in America's history, began the following year. The North prevailed in 1865, freed the slaves and introduced universal adult male suffrage. Lincoln's vision for reconstruction, however, died with his assassination.

America's trouncing of the Spaniards in 1898 marked the USA's ascendancy as a superpower and woke the country out of its isolationist slumber. The US still did its best not to get its feet dirty in WWI's trenches, but finally capitulated in 1917, sending over a million troops to help sort out the pesky Germans. Postwar celebrations were cut short by Prohibition in 1920, which banned alcohol in the country. The 1929 stock-market crash signaled the start of the Great Depression and eventually brought about Franklin Roosevelt's New Deal, which sought to lift the country back to prosperity. After the Japanese dropped in uninvited on Pearl Harbor in 1941, the US played a major role in defeating the Axis powers. Atomic bombs dropped on Hiroshima and Nagasaki in 1945 not only ended the war with Japan, but ushered in the nuclear age. The end of WWII segued into the Cold War - a period of great domestic prosperity and a surface uniformity belied by paranoia and betrayal. Politicians like Senator Joe McCarthy took advantage of the climate to fan anticommunist flames, while the USSR and USA stockpiled nuclear weapons and fought wars by proxy in Korea, Africa and Southeast Asia. Tensions between the two countries reached their peak in 1962 during the Cuban Missile Crisis.
The 1960s was a decade of profound social change, thanks largely to the Civil Rights movement, Vietnam War protests and the discovery of sex, drugs and rock & roll. The Civil Rights movement gained momentum in 1955 with a bus boycott in Montgomery, Alabama. As a nonviolent mass protest movement, it aimed at breaking down segregation and regaining the vote for disfranchised Southern blacks. The movement peaked in 1963 with Martin Luther King Jr's 'I have a dream speech' in Washington, DC, and the passage of the landmark 1964 Civil Rights Act and 1965 Voting Rights Act. Meanwhile, America's youth were rejecting the conformity of the previous decade, growing their hair long and smoking lots of dope. 'Tune in, turn on, drop out' was the mantra of a generation who protested heavily (and not disinterestedly) against the war in Vietnam. Assassinations of prominent political leaders - John and Robert Kennedy, Malcolm X and Martin Luther King Jr - took a little gloss off the party, and the American troops mired in Vietnam took off the rest. NASA's moon landing in 1969 did little to restore national pride. In 1974 Richard Nixon became the first US president to resign from office, due to his involvement in the cover-up of the Watergate burglaries, bringing American patriotism to a new low. The 1970s and '80s were a period of technological advancement and declining industrialism. Self image took a battering at the hands of Iranian Ayatollah Khomeni.
A conservative backlash, symbolized by the election and popular two-term presidency of actor Ronald Reagan, sought to put some backbone in the country. The US then concentrated on bullying its poor neighbors in Central America and the Caribbean, meddling in the affairs of El Salvador, Nicaragua, Panama and Grenada. The collapse of the Soviet Bloc's 'Evil Empire' in 1991 left the US as the world's sole superpower, and the Gulf War in 1992 gave George Bush the opportunity to lead a coalition supposedly representing a 'new world order' into battle against Iraq. Domestic matters, such as health reform, gun ownership, drugs, racial tension, gay rights, balancing the budget, the tenacious Whitewater scandal and the Monica Lewinsky 'Fornigate' affair tended to overshadow international concerns during the Clinton administration. In a bid to kickstart its then-ailing economy, the USA signed NAFTA, a free-trade agreement with Canada and Mexico, in 1993, invaded Haiti in its role of upholder of democracy in 1994, committed thousands of troops to peacekeeping operations in Bosnia in 1995, hosted the Olympics in 1996 and enjoyed, over the past few years, the fruits of a bull market on Wall St.
The 2000 presidential election made history by being the most highly contested race in the nation's history. The Democratic candidate, Al Gore, secured the majority of the popular vote but lost the election when all of Florida's electoral college votes went to George W Bush, who was ahead of Gore in that state by only 500 votes. Demands for recounts, a ruling by the Florida Supreme Court in favor of partial recounts, and a handful of lawsuits generated by both parties were brought to a halt when the US Supreme Court split along party lines and ruled that all recounts should cease. After five tumultuous weeks, Bush was declared the winner. The early part of Bush's presidency saw the US face international tension, with renewed violence in the Middle East, a spy-plane standoff with China and nearly global disapproval of US foreign policy with regard to the environment. On the domestic front, a considerably weakened economy provided challenges for national policymakers. Whether the US can continue to hold onto its dominant position on the world stage and rejuvenate its economy remains to be seen.
'Give me your tired, your poor/Your huddled masses yearning to breathe free,' reads the inscription on the Statue of Liberty. And the world did, fueling the dynamism of America with waves of ambitious immigrants from every downtrodden corner of the globe. Immigration is one of the defining characteristics of America's national identity, though calling the US a 'nation of immigrants' neatly sidesteps Native Americans (already here) and African American slaves (brought against their will). In the past 30 years, the old notion of America as a melting pot - a stew in which immigrants' individual differences are lost in uniformity - has given way to the salad-bowl model, in which the individual pieces still retain their flavor while contributing to the whole. Americans are constitutionally guaranteed freedom of worship; dominant faiths include Protestantism, Catholicism and Judaism, among others.There are plenty of indigenous faiths as well, such as Christian Scientists, Jehovah's Witnesses and Mormons. American English encompasses a multitude of regional accents of differing degrees of intelligibility.

Spanish has effective dual-language status in parts of southern California, New Mexico, Texas and Miami. There are 400,000 speakers of Native American dialects. Modern American culture is a juicy burger of mass culture garnished with 15 minutes of fame. It owes as much to marketing savvy, communications technology and mass-production techniques as it does to artists and entertainers. If you can name it, American companies have invented, packaged and disseminated it to as many consumers as cheaply and conveniently as possible. The elusive concept of 'American-ness' is often defined by cinema and television.
The advent of TV in the 1950s shook Hollywood's hegemony to its core, but both forms of media have managed to coexist, even operating synergistically. The global distribution of American movies and TV shows has shaped the world's perception of the country to a high, if not completely accurate, degree. The American music industry is the world's most powerful and pervasive, though groundswell movements remain the driving force of American pop. African Americans' influence, including blues, jazz and hip-hop, can hardly be exaggerated. Rap, America's inner-city sound, places an equal emphasis on an ultraheavy beat, sound montage, street cred and macho posturing. Its appeal to middle-class white America will no doubt bemuse sociologists for decades. The US has churned out a veritable forest of literature.
The illustrious lineup begins with Walt Whitman, Herman Melville, Nathaniel Hawthorne, Emily Dickinson, Henry James and Edith Wharton, and moves into the modern era with William Faulkner, Ernest Hemingway, Scott Fitzgerald, John Steinbeck, Jack 'Backpack' Kerouac, Arthur Miller, both the Williamses, Saul Bellow, John Updike and Toni Morisson. After WWII, the focus of the international art world shifted from Paris to New York. Artists leaving war-torn Europe brought the remnants of surrealism to the Big Apple, inspiring a group of young American painters to create the first distinct American painting style, abstract expressionism. The relentless ascendancy of mass media gave birth to pop art. Slick, surface-oriented and purposely banal paintings like Andy Warhol's Campbell's Soup Cans are now American icons. When we think of US cities, we think of skyscrapers, those architectural testaments to market forces and American optimism. Chicago is a living museum of high-rise development. New York boasts its fair share of stunners too. Despite increasing homogenization, rural America retains its idiosyncrasies, and distinctive vernacular architectural styles persist in New England (clapboard), California (Spanish Mission) and New Mexico (adobe). American sports developed separately from the rest of the world and, consequently, homegrown games such as baseball, football and basketball dominate the sports scene. Soccer and ice hockey are runners-up to the Big Three. Urban America also invented the great indoors: aerobics and the gym, indoor skiing and rock-climbing - examples of what can go wrong when too much disposable income hits up against too little leisure time.